December, 2017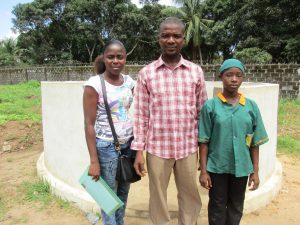 A year ago, generous donors helped construct a well for the Ahmadiya Muslim Primary School in Malokoh, Sierra Leone. Because of these gifts and the contributions of our monthly donors, partners are able to visit project sites throughout the year, strengthening relationships with communities and evaluating the actual water project. These consistent visits allow us to learn vital lessons and hear amazing stories – we're excited to share this one from our partner, Nanah Mansaray, with you.
---
Many people around the world make the claim, "water is life," and at the Ahmadiya Muslim Primary School it is easy to see from the changes that have occurred over the last year that water is education!  Abdulia Bangura, an advisor at the school, observes, "the pupils usually went to the stream to fetch water, but now we have access to clean and pure water, and even learning about hygiene."  Access to water saves the students time in their daily life since they are not walking all the way to the stream, and it saves time and energy since they are fighting less with waterborne illness.
Ramatu Jalloh is a sixteen-year-old student that is particularly thankful for the change in the area; she shares, "Our life has really changed since the completion of this project because we have been drinking unsafe water but since this project was completed now we have access to safe and clean water."
The hygiene and sanitation training that Mariatu's Hope provided is critical to accessing the maximum benefits of clean water access. However, long-term behavior changes require trust and continued engagement. Mariatu's Hope will continue to monitor the well and to work alongside the school and the community in this lifelong journey of improved health.
---
While one school project may seem like just a drop in the bucket in a global water crisis, it opens possibilities for students and community members around Ahmadiya Muslim Primary School to see the entire world differently.  Mariatu's Hope will continue to share the life, education, and impact that flows because of the water.
The Water Project and our partners are committed to consistent monitoring of each water source. Our monitoring and evaluation program, made possible by monthly donors, allows us to visit communities up to 4 times a year. Read more about our program and how you can help.
See The Water Project in Ramatu Jalloh's Community »