December, 2017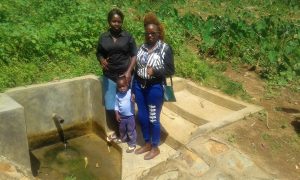 A year ago, generous donors helped protect a spring for the Munzeywe Community in Western Kenya. Because of these gifts and the contributions of our monthly donors, partners are able to visit project sites throughout the year, strengthening relationships with communities and evaluating the actual water project. These consistent visits allow us to learn vital lessons and hear amazing stories – we're excited to share this one from our partner, Faith Muthama, with you.
---
Witnessing the changes involved in transforming an open, natural spring into a protected spring is truly amazing- a standing muddy water pool into flowing, clean water. It is equally amazing to witness the transformations that occur in a community that has access to this new source for clean water. Violeta Wesonga, a teacher in Munzeywe shares, "Initially the village used to fetch water from far away, and also used to hire people to supply water for them at the village. Since the spring was protected they have no problem with water, they get clean drinking water from the protected spring- they used to have only dirty water for drinking and cooking."
The Andrea Mutende Spring has provided an access point for clean water, and it has saved time for many people in the community.  Additionally, the community has received training in hygiene and sanitation practices that improve the sustainable impact that clean water can bring.
One of the challenges that this community has faced is that during the dry seasons the yield of the spring drops.  It is possible that the low yield could be due to Eucalyptus trees and sugar cane planted near the site of the spring. Because of the consistent monitoring visits, WEWASAFO will be able to determine if the community should adjust the agricultural practices, or whether another water point is necessary for the community to have full, consistent, year round  access to sufficient drinking water. However, Eric Mutende, age 10, says that the water at the spring is sufficient for drinking and for house chores. We continue to walk hand in hand with this community to ensure this is the case for everyone.
---
While it may seem that one protected spring is just a drop in the bucket amidst a global water crisis, the people in Munzeywe Village experience the direct impact that clean water access has on daily life. We are excited to stay in touch with this community and report back more positive stories.
The Water Project and our partners are committed to consistent monitoring of each water source. Our monitoring and evaluation program, made possible by monthly donors, allows us to visit communities up to 4 times a year. Read more about our program and how you can help.
See The Water Project in Violeta Wesonga's Community »