November, 2018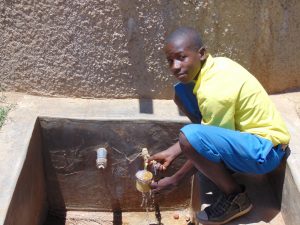 A visit to Chebunaywa Primary School speaks for itself.
Upon arrival, we saw a clean and well-maintained compound with students dressed cleanly – the complete opposite of what we encountered during our first visit here. It is an indicator that the training on hygiene and sanitation was indeed successful.
The installation of the 50,000-liter tank has enabled the school to access clean and safe water for drinking, cooking, and even cleaning of the classrooms throughout the year. Previously, classrooms used to be cleaned once a week and this definitely did not create a favorable environment for learning. But this has changed drastically due to the availability and accessibility of water.
"Before installation of the facilities in our school, we faced various challenges ranging from hygiene and sanitation, insufficient learning facilities, and even shortage in the number of teachers. We thank God that in this one year of installation we have experienced major improvements," said Senior Teacher John Mundehe.
Other areas of change in the year since the tank was completed include an increased student population, better attendance rates, and better school-wide academic performance.
"Pupils at first feared to come to school knowing they would be tasked with the responsibility of first fetching water for use at school of which they were not comfortable with. Immediately after installation, the rate of absenteeism went down," said Mr. Mundehe.
"I now have time to concentrate on my studies. In the past, class hours used to be interrupted with the teacher on duty assigning pupils with the task of going to fetching water at the spring," said 15-year-old student Marion Chelagat.
As a result, Marion is doing better in school. She reported that her class rank rose from eleventh to third over the past year, an improvement she attributes to the fact that she now spends more time concentrating in class and studying, rather than fetching water and missing school due to waterborne illnesses.
See The Water Project in Marion Chelagat's Community »