October, 2022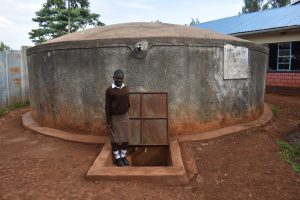 A year ago, the students of Kitagwa Secondary School had a hard time staying in class because of the school's water shortage.
"Before, to get water was so challenging because I had to move out of the school looking for water with other students, thus resulting [in] wastage of time," said 17-year-old student Sarah O. "This was really affecting my health because of drinking contaminated water from different sources."
Now, though, things are different for the school and its students. People are healthier —and they are better able to keep it that way.
"[The] reliability of water has really impacted me positively because [the] availability of water in the school has greatly helped me to improve hygiene such as handwashing," Sarah said. "This is because before, I used [to] not wash my hands, but now I am able to do so to ensure that I eat clean food. Secondly, the rainwater tank has made me not go outside the village looking for water, which was leading to [a] wastage of time."
"As a school hygiene and sanitation captain, my plans or goals [were] to ensure that the school hygiene and sanitation is greatly improved," Sarah continued. "With enough water in the school, my goals [have] come through. As per now, the school has bought more handwashing facilities that I should ensure it is filled with water and soap every day. For the latrines, it is clean every day because water is available."
See The Water Project in Sarah's Community »