November, 2018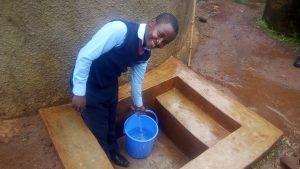 A year ago, your generous donation enabled us to construct a rainwater tank for Ebubayi Secondary School in Kenya. The contributions of incredible monthly donors and others giving directly to The Water Promise allow our local teams to visit project sites throughout the year, strengthening relationships with communities and evaluating the water project over time. These consistent visits allow us to learn vital lessons and hear amazing stories – and we're excited to share this one from local team member Lillian Achieng with you.
---
"The tank has brought a consistent water supply to the school," Headmistress Veronica Onacha told us during a recent visit to Ebubayi Secondary School.
"The pump that supplies water from the council would break down and students and school workers would be forced to fetch water."
The tank constructed last year provides plenty of water for all of the students. It means that they no longer have to fetch water from alternative and often unsafe sources. The tank has also benefited the school financially. The school saved an estimated $500 now that they do not have to pay for water or people to fetch it.
These facilities have improved the school's standing. More students now attend the school than last year, a result of the tank and the latrines built that make daily life more comfortable.
"The facilities have given the school a facelift, causing other schools to admire us," Ms. Onacha said.
Construction of the tank is only one step along the journey toward sustainable access to clean water. The Water Project is committed to consistent monitoring of each water source. Our monitoring and evaluation program, made possible by donors like you, allows us to maintain our relationships with communities by visiting up to 4 times each year to ensure that the water points are safe and reliable.
This is just one of the many ways that we monitor projects and communicate with you. Additionally, you can always check the functionality status and our project map to see how all of our water points are performing, based on our consistent monitoring data.
One project is just a drop in the bucket towards ending the global water crisis, but the ripple effects of this project are truly astounding. This project in Ebubayi Secondary School is changing many lives.
The state of the latrines in this school before the implementation of this project was poor. It is different now. Our teams reported that the students have learned to wash the new and old latrines and keep them clean. This is the result of the training that took place alongside the construction process.
And we learned from Esther Minayo how the training helped empower her. She and some fellow students were selected to serve as leaders among their peers to encourage better sanitation and hygiene practices.
"I have always been a shy girl," Esther told us, "but after the hygiene training I gained confidence and the lion in me was released. Now I can educate others on hygiene matters and academics too."
"I believe this is a an open door into my great future since I am realizing who I am and what I am capable of," she said.
This is only possible because of the web of support and trust built between The Water Project, our local teams, the community, and you. We are excited to stay in touch with this community and support their journey with safe water.
Read more about The Water Promise and how you can help.
See The Water Project in Esther Minayo's Community »