December, 2017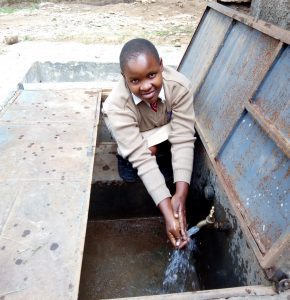 A year ago, generous donors helped construct a rainwater harvesting tank and latrines at the Ebwambwa Secondary School  in Western Kenya. Because of these gifts and the contributions of our monthly donors, partners are able to visit project sites throughout the year, strengthening relationships with communities and evaluating the actual water project. These consistent visits allow us to learn vital lessons and hear amazing stories – we're excited to share this one from our partner, Jonathan Kipkirui Mutai, with you.
---
The ongoing survival of many schools in Kenya is threatened if they are not able to provide water and sanitary facilities for the schools, yet it is difficult for parents to pay these expenses in addition to usual school fees. The Water Project and WEWASAFO have targeted schools just like this because of the potential that can be unlocked for both students and staff when clean water and sanitation is available.
Because the responsibility for fetching water often falls primarily on the women and children in Western Kenyan communities, the women and children are the ones who often see the greatest benefit with a clean water source.
This is truly the case at the Ebwambwa Secondary School, where the principal, Mrs. Jessica Sikuku, raves about the impact on both student health and student performance since the installation of the rainwater harvesting tank and latrines: "The School mean score has improved and more students have been admitted to university. We are very happy since the absentee rate at the school has dropped. The school now is accessing safe drinking water unlike before." Access to clean drinking water has literally increased the flow of students from this school into higher education at Kenyan Universities!
Benjamin Wafulah, age 17, describes the changes to his daily routine because of the rainwater harvesting tank at the school.  He shares, "Currently I am concentrating in studies as no more of my time is wasted fetching water from nearby rivers and streams. Again, I am happy because I no longer have to carry water from home. Water is now available in the school compound and I can access safe drinking water." This water has even greater impact because of the hygiene and sanitation training and practices that have been integrated into the life of the students.  A clean environment and proper sanitation facilities are critical components to sustainable health impact.  WEWASAFO continues to monitor the facilities at this school and treat the water tank to ensure a high quality of clean drinking water for the students.
---
As you can see, clean water access creates ripples of life that extend from school to family, from family to community, and from the community to locations throughout the nation.  We are excited to stay in touch with Ebwambwa Secondary School and to report the impact as they continue on their journey with clean water.
The Water Project and our partners are committed to consistent monitoring of each water source. Our monitoring and evaluation program, made possible by monthly donors, allows us to visit communities up to 4 times a year. Read more about our program and how you can help.
See The Water Project in Benjamin Wafulah's Community »