November, 2018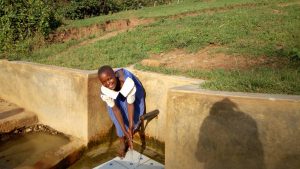 A year ago, your generous donation enabled us to protect Ayubu Spring for Ematiha Community in Kenya. The contributions of incredible monthly donors and others giving directly to The Water Promise allow our local teams to visit project sites throughout the year, strengthening relationships with communities and evaluating the water project over time. These consistent visits allow us to learn vital lessons and hear amazing stories – and we're excited to share this one from local team member Karen Maruti with you.
---
It is evident that the protection of Ayubu Spring has attracted more people from the surrounding villages. It is proof positive that the spring protection is making a difference for the people here. We visited the spring recently to speak with people about the impact it's had on their lives.
"We no longer have long queues at the spring waiting for the water to clear before we fetch," said Velma Anjeche to us.
She also reported that families are experiencing fewer cases of waterborne illness, especially in her own household. This is possible thanks to the spring protection and the accompanying training that taught community members how to avoid contaminating the water and how to improve sanitation and hygiene at their homes.
After the training, the Community Health Resource Volunteers went out to reach other people within the community with information about good hygiene and health. They each targeted 10 households and and currently report that at least 50 households have been trained in the past year. This has enhanced good health and hygiene practices within this community.
As we entered the village this hard work and dedication was evident within clean compounds that have dish racks and clotheslines in place. We also observed improvised leaky tins for handwashing and improved latrines throughout the community.
"We are so grateful, God bless you all," Ms. Anjeche said to us.
Protection of the spring is only one step along the journey toward sustainable access to clean water. The Water Project is committed to consistent monitoring of each water source. Our monitoring and evaluation program, made possible by donors like you, allows us to maintain our relationships with communities by visiting up to 4 times each year to ensure that the water points are safe and reliable.
This is just one of the many ways that we monitor projects and communicate with you. Additionally, you can always check the functionality status and our project map to see how all of our water points are performing, based on our consistent monitoring data.
One project is just a drop in the bucket towards ending the global water crisis, but the ripple effects of this project are truly astounding. This project in Ematiha Community is changing many lives.
We also met Mercy Amonyole, a 12 year old girl who attends the nearby Eshilakwe Primary School, which also benefited from one of our projects over the past year. She told us how she now has clean water at both home and school thanks to this spring protection and a rainwater tank.
"I want to say that we no longer have numerous challenges. They lie in the past when we had no safe water source," Mercy said.
"I am the happiest person."
This is only possible because of the web of support and trust built between The Water Project, our local teams, the community, and you. We are excited to stay in touch with this community and support their journey with safe water.
Read more about The Water Promise and how you can help.
See The Water Project in Mercy Amonyole's Community »