August, 2022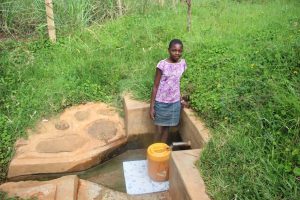 Before Luka Spring was protected last year it was difficult to safely collect water.
"I could prefer to be given other duties instead of being asked to go and draw water, especially during rainy seasons. It was hectic getting to the spring because the spring entrance was slippery and also the water was not clean," said 14-year-old Phostine M. when sharing how she felt about the spring last year.
But now, with a protected spring, Phostine feels differently.
"Bravo for protecting our spring. Our spring is smart, clean, and fetching water is easy and fast," said Phostine.
Not only has it become easier for Phostine and her fellow community members to collect water, but the accessible water is impacting other areas of their lives.
"Sanitation standards at [the] family level have really improved because we have enough water throughout the year," concluded Phostine.
See The Water Project in Phostine's Community »