December, 2017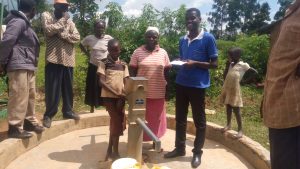 A year ago, generous donors helped rehabilitate a well with Imbiakalo Community in Western Kenya. Because of these gifts and contributions from our monthly donors, partners can visit project sites throughout the year, strengthening relationships with communities and evaluating the actual water project. These consistent visits allow us to learn vital lessons and hear amazing stories – we're excited to share this one from our partner, Paul Weringa with you.
---
Imbiakalo Community stood out to Paul as a place that's been doing extremely well on their journey with clean water. They no longer fight waterborne diseases like typhoid, and he sees a big change in how community members are handling, storing, and treating their drinking water.
Paul met the well caretaker, Martin Shimaka, to talk about how the well has been serving Imbiakalo over the past year. He said, "Women and children used to walk two kilometers away to search for water. Most of our homes are now closer to this source, making it easier to have clean, safe water. Before, our children used to have running stomach because of drinking water, and typhoid was also a great threat among elderly people who spent most of their time in hospital beds seeking treatment. Instead of spending time in hospitals, we now spend time on our small farms planting and harvesting crops.
Our livestock even enjoy the water from this well, unlike before when we lost lots of our livestock through death that came from drinking contaminated water from the river. They are now healthy and have better milk production."
12-year-old Rhoda Misango agreed, saying that "every time I fell sick, I was found to have typhoid. Now, I have no big problems."
---
The Water Project and our partners are committed to consistent monitoring of each water source. Our monitoring and evaluation program, made possible by monthly donors, allows us to visit communities up to 4 times a year. Read more about our program and how you can help.
See The Water Project in Rhoda Misango's Community »