June, 2022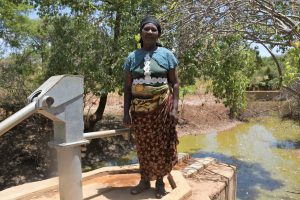 Before we installed the sand dam and shallow well in Syonzale, life for community members involved a lot of struggle.
"We experienced a lot of water scarcity issues such as long walks to the river and time wastage because we could spend most of the day searching for water," recalled 53-year-old Mbitha Mwende, the chairperson of the community's Water User Committee.
"Conducting the day's work was also difficult because a lot of time and energy was spent on looking for water," she continued. "The inadequate water availability also adversely affected our hygiene and sanitation because water had to be used sparingly."
But since the water projects were installed last year, all that has changed.
"Life is much better now because this water point is close to my home and offers [a] sufficient amount of water," Mbitha explained. "I have even cultivated a kitchen garden at home that I irrigate using water from this implemented project. Our household hygiene and sanitation have also improved, thanks to the project. My health has also improved because of its clean water, unlike the previous scoop holes."
The people of Syonzale no longer need to dig scoop holes into the dry riverbed to access water, which has wrought many positive results for community members.
"It has enabled food security because I can now irrigate vegetables, which was difficult before the construction of this project," Mbitha concluded. "This water point also offers clean water to drink which has improved our health since we are no longer exposed to infections like typhoid, amoeba, dysentery and more related to water from the scoop holes."
See The Water Project in Mbitha's Community »