November, 2017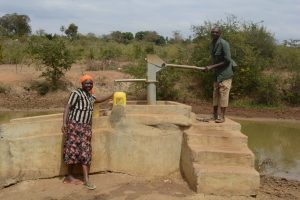 A year ago, generous donors helped build a shallow well for the Itatini Self Help Group in Kenya. Because of these gifts and our monthly donors, partners are able to visit project sites throughout the year, strengthening relationships with communities and evaluating the actual water project. These consistent visits allow us to learn vital lessons and hear amazing stories – we're excited to share this one from partners Mutheu Mutune, Joe Kioko and Titus Mbithi with you.
---
This hand-dug well has supported the community with clean water that is transforming lives. Time that was initially wasted looking for water is now used for income-generating activities. Livestock no longer lack drinking water and die during the dry months. Washing clothes is made easy due to the soft water from the project.
Thanks to the clean water this hand-dug well provides, cases of waterborne disease are at a minimum. As the adjacent sand dam continues to mature, more clean water will be available for even longer periods of time. The land itself is transforming from brown to green.
Justina Pius, the chairwoman overseeing this water project, had a lot to say. "The water from the well is soft and cooking our meals has been easy. The project has supported us through growing vegetables, and even the non self-help group members use the flowing water to irrigate their farms. This has transformed our environment and our children never lack food or even basic needs because we sell the farm products and get money. Our vegetables survive for long, unlike before. This project has enlightened us on income-generating activities… I had planted kales, spinach, pumpkins, onions and maize and income from these crop sales have enabled me to clear the school fee balance for my children! My family never lacks food to eat and we take three meals a day, unlike before when food was very scarce due to erratic rainfall. The environment has also changed and we hope to see it change [more] in the next few years."
Her daughter Mwongeli told us, "I have become more clean and healthier because of the water available for washing my clothes and bathing. Before this project, we would travel long distances in order to search for water – but since it came we no longer waste time because it is less than half an hour to reach this water point. I could come home from school and go to fetch water at a far place back then. Due to long lines, sometimes I could go home without water at very late hours having waited for long! This was very risky for me because I was being exposed to dangers on my way back. I am now very grateful!"
---
The Water Project and our partners are committed to consistent monitoring of each water source. Our monitoring and evaluation program, made possible by monthly donors, allows us to visit communities up to four times a year. Read more about our program and how you can help.
See The Water Project in Mwongeli Pius's Community »