September, 2017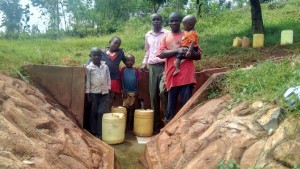 A year ago, generous donors helped build a spring protection and sanitation platforms for the community surrounding John Maganga Spring in Kenya. Because of these gifts and our monthly donors, partners are able to visit project sites throughout the year, strengthening relationships with communities and evaluating the actual water project. These consistent visits allow us to learn vital lessons and hear amazing stories – we're excited to share this one from our partner, Wilson Kipchoge, with you.
Life for many people in the community of Emmuli Ebutuku, where the John Maganga spring is located, has changed tremendously over the past year.  Because of the clean water now available at the protected spring, community members are able to avoid sickness and save time.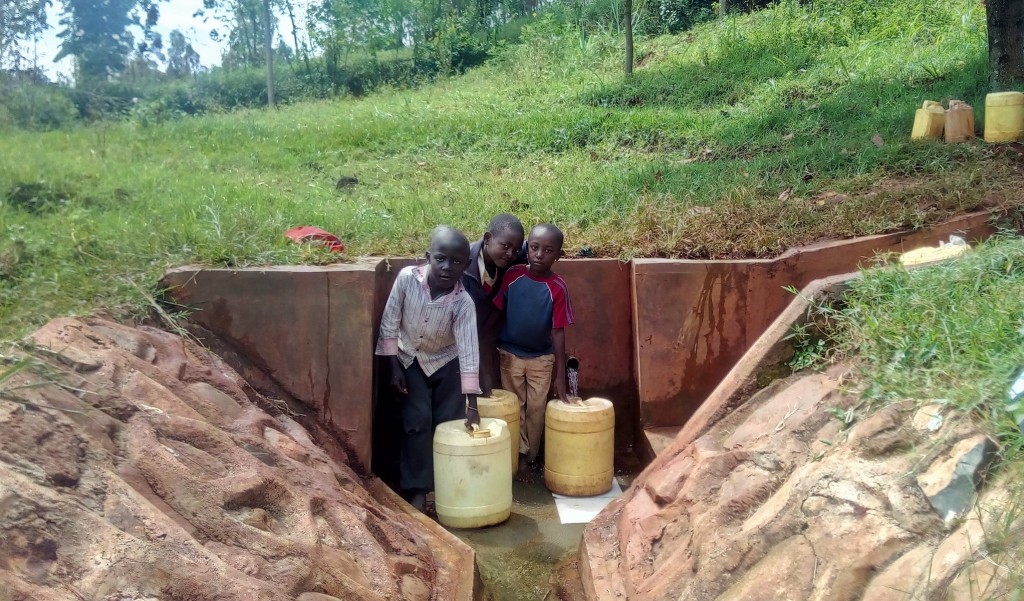 Regular health and hygiene training promotes sustainable practices for long-term health impact. WEWASAFO will continue supporting Emmuli Ebutuku to ensure that clean water is not only available but to ensure that the community has the tools to keep the water clean until drinking it- collection, storage. In addition WEWASAFO trains and challenges the community to build and maintain clean latrines. John Mganga, the landowner of the protected spring area, says, "Provision of five sanitation platforms was a wakeup call to all those who never had latrines but relied solely on sharing with their neighbors."
Jared Ondere, a 14-year-old in the community shares the ways his life, and the life of many students in this community has been impacted: "Since last year, I have been able to drink safe water with confidence without getting sick, unlike previous years when I drank dirty water and later suffered from diarrhea." For him, the protected spring not only gives him confidence in health, but also saves time, "because many people could come at the same time to the unprotected spring to fetch water causing congestion, but now people fetch the water with ease."
As John Maganga Spring continues to provide safe drinking water to the surrounding community, the people are freed to pursue their own vision for a flourishing life.  We are excited to stay in touch with this community and report back more positive findings.
The Water Project and our partners are committed to consistent monitoring of each water source. Our monitoring and evaluation program, made possible by monthly donors, allows us to visit communities up to 4 times a year. Read more about our program and how you can help.
See The Water Project in John Maganga's Community »