December, 2017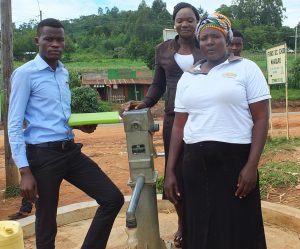 A year ago, generous donors helped build a new well with Kakoyi Corner in Kenya. Because of these gifts and contributions from our monthly donors, partners can visit project sites throughout the year, strengthening relationships with communities and evaluating the actual water project. These consistent visits allow us to learn vital lessons and hear amazing stories – we're excited to share this one from our partner, Paul Weringa, with you.
---
Before this well was rehabilitated, there was an old, broken pump being used by the community. They fought with it on a daily basis, with it taking 15 to 20 minutes of constant pumping to get water to come out. Finding that the pump couldn't be repaired, we decided to open the well up, clean it out, and replace it with a new AfriDev pump.
Turning this well into a protected source of clean water has transformed the community. The well pad no longer has cracks that allow for contamination, and people are able to get their water from the new pump right away. There are no more long lines because containers are being filled with clean water quickly. Community members report that there are no longer outbreaks of waterborne disease.
Damari Nandwa knows the most about this well; it's her job as the caretaker.
She says that she and her neighbors in Kakoyi Corner "no longer have to wait for long to access the water. We are able to do other activities like farming because we have water available."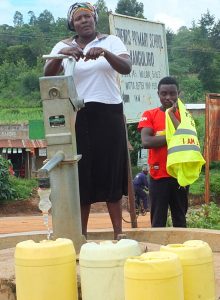 And with a reliably clean and accessible water well, "the cost of medication has reduced because there is no more outbreak of waterborne diseases that we used to experience before," Mrs. Nandwa continued. In the adjacent picture, Mrs. Nandwa is showing us how much easier it is to pump clean water now. She and the community members have fixed a plastic water bottle to the spout to funnel water right into their jerrycans.
But Mrs. Nandwa is also aware of a few ways her community needs to grow as they care for and enjoy this well. She says that "the level of conflicts have risen as a result of regulating time for fetching water." Since this is a hand-dug well and not a borehole, it is important to give the well time to rest so that it can recharge with enough water to serve everyone. However, "the majority want the source to remain open at all times." Mrs. Nandwa's neighbors are upset that she enforces these rules as the well caretaker.
---
Paul Werenga and the team in western Kenya have been reengaging with the community on the importance of managing their water point. If it's left unlocked all the time, the pump is susceptible to vandalism and extra wear and tear (children like to play at pumps!).
The Water Project and our partners are committed to consistent monitoring of each water source. Our monitoring and evaluation program, made possible by monthly donors, allows us to visit communities up to 4 times a year. Read more about our program and how you can help.
See The Water Project in Damari Nandwa's Community »