December, 2017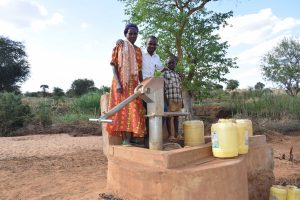 A year ago, generous donors helped build a hand-dug well for the Kyeni kya Karuli Self-Help Group in Kenya. Because of these gifts and our monthly donors, partners are able to visit project sites throughout the year, strengthening relationships with communities and evaluating the actual water project. These consistent visits allow us to learn vital lessons and hear amazing stories – we're excited to share this one from our partners Titus Mbithi and Joseph Kioko with you.
---
Students had to skip school because they were spending so much time in search of water.
But now, a well and sand dam system have brought water close to home. And thanks to the surplus of water the sand dam provides, this hand-dug well is able to pump clean, safe water from the catchment area.
Moses Muthengi is one of the many people who have directly benefited from having water nearby. "Before the project, we used to walk for long distances close to four kilometers one way and line up for hours because people came from different regions to fetch water at Nthungu River. Right now, we take less than 30 minutes to get our water," he shared. 9-year-old Vundi Musyoki came to the well while we were there, and added: "I can now be sent to go fetch from this well, unlike before when the distance was too long for my age to walk. The water ensures that I am clean and healthy because I drink it and it's used for cooking and showering. I cannot be more happy!"
Naomi Mwenda added that she used to have to walk six kilometers to River Tyaa to find water. "Clean water gives me and my family a clean bill of health. Same for every other member of the self-help group," Naomi said. The hand-dug well has brought so much clean water close to home that there's enough for all of the cattle, for farm irrigation, domestic use, cooking, and drinking. And now that there's a significant water stored in the sand, grass has started growing along the riverbed. This provides a great grazing area for livestock.
---
The Water Project and our partners are committed to consistent monitoring of each water source. Our monitoring and evaluation program, made possible by monthly donors, allows us to visit communities up to four times a year. Read more about our program and how you can help.
See The Water Project in Naomi Mwenda's Community »