December, 2017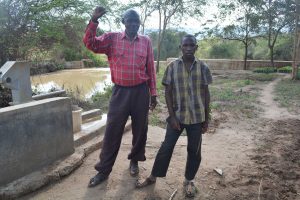 A year ago, generous donors helped build a hand-dug well for the Kyandwiki Self-Help Group in Kenya. Because of these gifts and our monthly donors, partners are able to visit project sites throughout the year, strengthening relationships with communities and evaluating the actual water project. These consistent visits allow us to learn vital lessons and hear amazing stories – we're excited to share this one from our partners Muthei Mutune and Titus Mbithi with you.
---
Safe drinking water used to just be a dream for hundred in this area, but it is now a reality. Water-related complications such as typhoid and amoeba are things of the past, since everyone is drinking treated water from a clean source.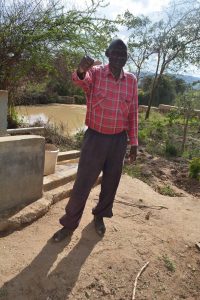 A polytechnic institute nearby, Vyulya Polytechnic, has benefitted from the project because students are now fetching water for their own use. Before the project was implemented, water was a big problem for them and they had to get it from a river named Mukuyuni, which is very far away.
Mr. Pius Nzoila Kitwa is one of the group members who worked hard to see this project's success. He met us at the water point to talk about the change that's happened over the past year. "We never used to treat our drinking water, but since the start of this project we have constantly been treating the water and storing it in a safe place. This has resulted in fewer cases of typhoid and amoeba. The initial distance traveled to Mukuyuni River has now greatly decreased, and the project has been serving a big population. We sell water from the well and use the money for maintenance expenses. Our children have improved their performance levels because they use time initially wasted going to fetch water on reading and doing their homework," he shared.
And thanks to the surplus of water an adjacent sand dam provides, this hand-dug well is able to pump clean, safe water from the catchment area.
16-year-old Francis Miunde was also there. "Distance [to water] has decreased from three kilometers to less than a kilometer, which is a very good thing to me because I have time to study… My personal hygiene has improved because water is available. This has happened to nearly all the students in the area, and they are now comfortable unlike before when some could be sent home because of being dirty. They are now comfortable and their performance has improved," he said.
The group members hope to install a community water tank at the nearby market, to which they would pipe and pump water from this well to sell to others. This would fetch good money for the group.
---
The Water Project and our partners are committed to consistent monitoring of each water source. Our monitoring and evaluation program, made possible by monthly donors, allows us to visit communities up to four times a year. Read more about our program and how you can help.
See The Water Project in Francis Miunde's Community »