December, 2017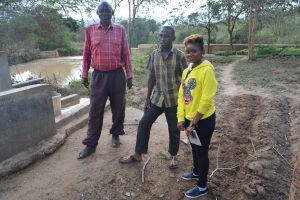 A year ago, generous donors helped build a sand dam for the Kyandwiki Self-Help Group in Kenya. Because of these gifts and our monthly donors, partners are able to visit project sites throughout the year, strengthening relationships with communities and evaluating the actual water project. These consistent visits allow us to learn vital lessons and hear amazing stories – we're excited to share this one from our partners Muthei Mutune and Titus Mbithi with you.
---
Mr. Pius Nzoila Kitwa is one of the group members who worked hard to see this project's success. He met us at the water point to talk about the change that's happened over the past year. "Our children have improved their performance levels because they use time initially wasted going to fetch water on reading and doing their homework. The water has boosted tree planting since the survival rate has increased compared to before. As you can see, our tree nursery is doing well and we are planning to transplant them to our farms," he shared.
And thanks to the surplus of water this sand dam provides, the adjacent well is able to pump clean, safe water from the catchment area.
16-year-old Francis Miunde was also there. "Distance [to water] has decreased from three kilometers to less than a kilometer, which is a very good thing to me because I have time to study. The project has supported my tree nursery, where I planted 80 trees. Though 30 dried, I now have 50 which I am planning to transplant and sell the remainder [for firewood]. I want to continue utilizing the project even after school to get more income and help my parents take my siblings to better schools. My personal hygiene has improved because water is available. This has happened to nearly all the students in the area, and they are now comfortable unlike before when some could be sent home because of being dirty. They are now comfortable and their performance has improved. Once in a while I come fishing at this dam and in not so long ago, I caught a big mudfish which I sold at 350 shillings. Most of the fish we catch are consumed at our homes. This has improved our nutrition," he said.
This group has really benefitted from this sand dam, especially when it comes to water for their livestock. Before, they couldn't get enough water to keep their animals alive throughout the dry season. If trained even more on water utilization, the group has the potential to continue increasing their income and improving their lifestyles. Some of the members have even made bricks with this water to not only improve their own homes, but to sell in the market.
---
The Water Project and our partners are committed to consistent monitoring of each water source. Our monitoring and evaluation program, made possible by monthly donors, allows us to visit communities up to four times a year. Read more about our program and how you can help.
See The Water Project in Pius Nzoila Kitwa's Community »