November, 2018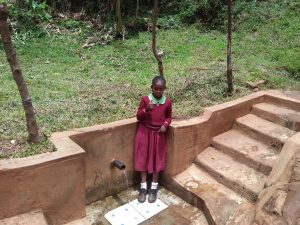 A year ago, your generous donation enabled us to protect Shihachi Spring for Lutonyi Community in Kenya. The contributions of incredible monthly donors and others giving directly to The Water Promise allow our local teams to visit project sites throughout the year, strengthening relationships with communities and evaluating the water project over time. These consistent visits allow us to learn vital lessons and hear amazing stories – and we're excited to share this one from local team member Olivia Bomji with you.
---
Community members are so exited that Shihachi Spring has clean and safe water for drinking and household chores. The area surrounding the spring is green and well-fenced, and banana tress are growing well which proves that this water really has an economic value for the people living here. Managing water as an economic good is an important way to achieve efficient and equitable usage and to encourage preservation of water resources, Field Officer Olivia noted.
She spoke with farmer Violet Khamalishi and 8-year-old student Michelle Andeka during a recent visit to the spring. The two expressed gratitude for the spring protection and explained how their lives have changed for the better over the past year.
"We children can now access clean water for drinking. Going to the hospital was the order of the day because of drinking contaminated water," Michelle said.
"Since Shihachi Spring was protected, we can go to school without being absent from waterborne illness."
Protection of the spring is only one step along the journey toward sustainable access to clean water. The Water Project is committed to consistent monitoring of each water source. Our monitoring and evaluation program, made possible by donors like you, allows us to maintain our relationships with communities by visiting up to 4 times each year to ensure that the water points are safe and reliable.
This is just one of the many ways that we monitor projects and communicate with you. Additionally, you can always check the functionality status and our project map to see how all of our water points are performing, based on our consistent monitoring data.
One project is just a drop in the bucket towards ending the global water crisis, but the ripple effects of this project are truly astounding. This spring in Lutonyi is changing many lives.
The community members can now access to clean and safe water for drinking, which is stored in clean containers that are washed. That is because people learned how to store safe water for drinking as a part of the accompanying hygiene and sanitation training last year. Clothing lines and the dish racks are now used in the community – another example of how the lessons learned from last year are being put to use. They have learned that living healthy is both maintaining cleanliness and drinking safe water.
"We thank you for protecting Shihachi Spring because we are now drinking clean and safe water that is not contaminated," Violet said.
This is only possible because of the web of support and trust built between The Water Project, our local teams, the community, and you. We are excited to stay in touch with this community and support their journey with safe water.
Read more about The Water Promise and how you can help.
See The Water Project in Michelle Andeka's Community »