December, 2017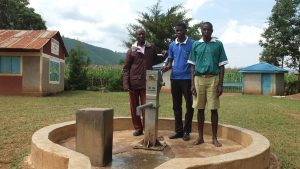 A year ago, generous donors helped rehabilitate a well with Mache Primary School in Western Kenya. Because of these gifts and contributions from our monthly donors, partners can visit project sites throughout the year, strengthening relationships with communities and evaluating the actual water project. These consistent visits allow us to learn vital lessons and hear amazing stories – we're excited to share this one from our partner, Paul Weringa with you.
---
Clean water has unlocked great hygiene for the students and staff at Mache Primary School, and is one of the most notable changes here. Hand-washing has really been embraced here. They're always filled with clean water, and soap is always available. Before this well rehabilitation, it was impossible to keep this practice up.
We met the teacher in charge of hygiene and sanitation at the well, Mr. Andrew Kutoto. "Lunch is prepared on time in the kitchen, since we have water in our compound. By the fact that a lot of time is used for studies, the academic performance for pupils and the school in general has improved.
The hygiene and sanitation of the school is now good and the environment is good for learning. We have an active health club that ensures that the latrines and classrooms are cleaned frequently. The health club also ensures that there is water in the hand-washing stations. The school has been able to continue building extra classroom blocks because water is available. This has saved us the cost of hiring donkeys to ferry water from outside. The project has also promoted a mutual relationship between the school, community and church," he shared.
19-year-old Joshua Shimwenyi said that "I do not experience stomachaches that I used to have when we drank water from other sources." He continued, "I have enough time to carry out my studies, especially during this year as I prepare to sit for final exams."
---
We know that clean water unlocks more study time for students, and we wish them the best of luck as they sit for final exams!
The Water Project and our partners are committed to consistent monitoring of each water source. Our monitoring and evaluation program, made possible by monthly donors, allows us to visit communities up to 4 times a year. Read more about our program and how you can help.
See The Water Project in Joshua Shimwenyi's Community »