December, 2017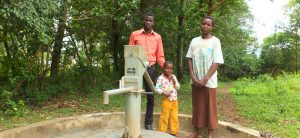 A year ago, generous donors helped rehabilitate a well with the Makhwabuyu Community in Western Kenya. Because of these gifts and contributions from our monthly donors, partners can visit project sites throughout the year, strengthening relationships with communities and evaluating the actual water project. These consistent visits allow us to learn vital lessons and hear amazing stories – we're excited to share this one from our partner, Paul Weringa, with you.
---
Waterborne diseases like typhoid are no longer a problem for people living in Makhwabuyu. Rehabilitating the well by installing an AfriDev pump, building a well pad, and training the community members on good hygiene and sanitation has really improved health here. People are doing a great job with how they handle drinking water, store it, and treat it.
Paul met the caretaker, Annah Jerah, at the well to talk about how life has changed over the last year. "We are now a relieved people that have clean water. We are able to save the little money we have and buy food for our families. Instead of spending time in the hospitals, we now spend time in our small farms planting and harvesting our crops.
When we used to pull a bucket from the well to get water, we used to experience chest and back pains. This problem has been solved by the installation of the pump, and now fetching water has become easier. With the pump in place, our husbands are willing to help us fetch water when necessary!" she exclaimed.
Even 5-year-old Joseph Amani showed up at the well to help his mom by fetching clean water. He said he was never allowed to fetch water before this project, since the open hole was too dangerous for him. He also said "my mother ensures that I am clean all the time, since water is now near to our homes."
The only challenge here is that many people are still not willing to contribute fees for their well, which would be used for maintenance. They have the idea that water should be free, but the well is really providing a service that needs to be maintained to ensure sustainability. Our team continues to engage with them on this through our quarterly monitoring visits and other trainings.
---
The Water Project and our partners are committed to consistent monitoring of each water source. Our monitoring and evaluation program, made possible by monthly donors, allows us to visit communities up to 4 times a year. Read more about our program and how you can help.
See The Water Project in Annah Jerah's Community »