December, 2017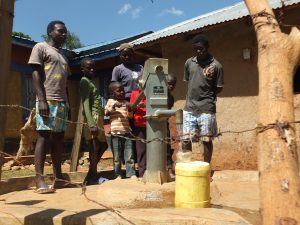 A year ago, generous donors helped rehabilitate a well with the Mang'uliro Community in Western Kenya. Because of these gifts and contributions from our monthly donors, partners can visit project sites throughout the year, strengthening relationships with communities and evaluating the actual water project. These consistent visits allow us to learn vital lessons and hear amazing stories – we're excited to share this one from our partner, Paul Weringa, with you.
---
Clean water is now easily accessible for people living in Mang'uliro. Women no longer strain to hoist buckets full of dirty water up and out of an open hole in the ground. Thanks to the rehabilitation of this water point, there is now a well pad that protects the water and an AfriDev pump that makes it easily accessible. Women no longer suffer from constant back and chest pains, while the entire community is relieved from waterborne disease.
So much money had been used to treat these diseases that could just be avoided with clean water. Now, that money and time can be invested in other activities like farming.
We met Timina Buchete Musichi at the well, who told us all about these changes. She said, "The back pains we used to experience are no longer a problem. The pump makes this possible, and there are no more waterborne disease outbreaks. We wash, bathe, and even water our livestock every day because water is within our reach."
However, we also asked Mrs. Musichi about some of the challenges she's still facing. She said that when the pump breaks, the rest of "the community is not willing to pay for maintenance costs."
---
People here have the idea that water should be free, but the well is really providing a service that needs to be maintained to ensure sustainability. Our team continues to engage with them on this through our quarterly monitoring visits and other trainings.
The Water Project and our partners are committed to consistent monitoring of each water source. Our monitoring and evaluation program, made possible by monthly donors, allows us to visit communities up to 4 times a year. Read more about our program and how you can help.
See The Water Project in Timina Buchete Musichi's Community »