September, 2017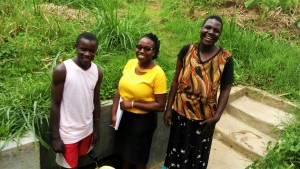 A year ago, generous donors helped build a spring protection system and sanitation platforms for families living around Mark Ashikuku Spring. Because of these gifts and our monthly donors, partners are able to visit project sites throughout the year, strengthening relationships with communities and evaluating the actual water project. These consistent visits allow us to learn vital lessons and hear amazing stories – we're excited to share this one with you.
–
Having clean water flowing from Mark Ashikuku Spring has reduced the huge amount of children you'd see wandering the community in search of clear water – not even clean water. Before it was protected, Mark Ashikuku Spring's water would grow cloudy as users dunked their jerrycans to fill them. And as a result of hygiene and sanitation training, the environment is now clean and most people have compost pits, dish racks, and clotheslines.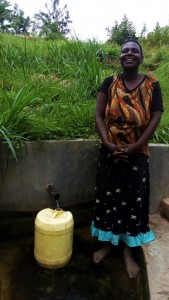 Peris Ashikuku says she believes that the clean water from this spring has freed her community to finally take care of themselves and their homes the way they want to: "Access to clean water, which is available even during the dry season! There has been improvement in the cleanliness of our environment after training, and I can attest to the fact that immediately [after] you left, people embarked on making sanitation structures as you advised. [These things have] helped us improve the health of people – as there are less reports of people suffering from diseases."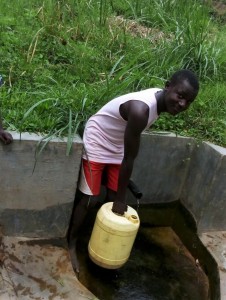 Innocent Okhaso told us that he once bore the burden of finding clean water for his family. "As a student in high school, I commute on a daily basis. Life has become better for me, since I don't have to worry about coming home early to look for clean water before people get it dirty. Being the eldest among my siblings, this was my responsibility because of the distance involved," he shared. But with the increased quality, quantity, and accessibility found at Mark Ashikuku Spring, almost anyone can easily fetch clean water. "Now my siblings can easily carry out this responsibility, and I now invest that time in my studies which are bearing fruit," he added.
As of now, some households are sharing latrines, though their hygiene and sanitation behaviors have improved drastically, and we look forward to continued improvement as we encourage each household to build their own latrine. Keeping Mark Ashikuku Spring flowing with clean water is a way to support this community in all of their endeavors, and we're excited to stay in relationship with this community as they continue their journey.
–
The Water Project and our partners are committed to consistent monitoring of each water source. Our monitoring and evaluation program, made possible by monthly donors, allows us to visit communities up to four times a year. Read more about our program and how you can help.
See The Water Project in Innocent's Community »