December, 2017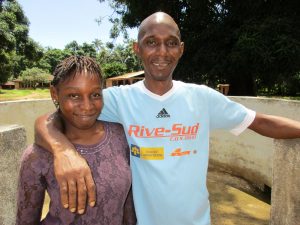 A year ago, generous donors helped construct a well for the Balaya Street community in Lungi Town, Sierra Leone. Because of these gifts and the contributions of our monthly donors, partners are able to visit project sites throughout the year, strengthening relationships with communities and evaluating the actual water project. These consistent visits allow us to learn vital lessons and hear amazing stories – we're excited to share this one from our partner, Madieu Turay, with you.
---
The people of Sierra Leone have faced an onslaught of health threats.  Madieu Turay shares, "Over the previous years during the raining season, there was a lot of sickness cases in this community like cholera, diarrhea, typhoid, malaria, stomachache and even Ebola as well." But Madieu has witnessed a change in this community that he attributes to the health and sanitation training along with the access to clean water, announcing, "we are observing no sickness like those I have mentioned above."
Alusine Sumah, a chairperson in the community also notes the freedom that many have found from the illnesses listed above, which he sees a direct result of fetching water from a well instead of an open swamp.
Emma Summah, age 17, notes how the water well has opened up time since she is not getting water from the swamp for drinking, laundry, and cooking. Emma confidently reports, "I have never been late to school since the coming of this project in our community."
While this well has had a tremendous impact in the community, Alusine conveys an ongoing need for clean water and sanitation in the area, pointing to overcrowding at the water point and the need for more hygiene and sanitation training.  Because of Mariatu's Hope's ongoing commitment to walk alongside these communities, and because of the knowledge and strength of people within these communities, we are confident that people on Balaya Street will continue to experience health where once there was sickness.
---
While it may seem like one project is just a drop in the bucket, the people on Balaya Street know the vast seas of impact that clean flowing water can bring.  We are excited to stay in touch with this community and to report the good news as they continue on their journey with clean water.
The Water Project and our partners are committed to consistent monitoring of each water source. Our monitoring and evaluation program, made possible by monthly donors, allows us to visit communities up to 4 times a year. Read more about our program and how you can help.
See The Water Project in Alusine Sumah's Community »