August, 2022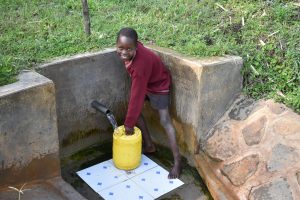 The community members in Mukhuyu relied on Namukuru Spring for water but unfortunately, it was contaminated and nearly inaccessible, especially during the rainy season.
"It was difficult to get water before. The water was dirty," said nine-year-old Lenard A. when discussing what it was like for him to collect water from Namukuru Spring last year.
But now, with the spring protected and the water easily accessible, things are different for Lenard, and he has more time to enjoy things children his age should, like playing football.
"I get water in the morning easily before going to school in the morning, and also I get it after school," said Lenard.
"I used to miss going to play football, but since this water is always available, I go playing and fetch [water] anytime I come back," concluded Lenard.
See The Water Project in Lenard's Community »