November, 2018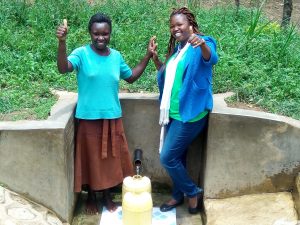 A year ago, your generous donation enabled us to protect Zikhungu Spring for Mungulu Community in Kenya. The contributions of incredible monthly donors and others giving directly to The Water Promise allow our local teams to visit project sites throughout the year, strengthening relationships with communities and evaluating the water project over time. These consistent visits allow us to learn vital lessons and hear amazing stories – and we're excited to share this one from local team member Jacklyne Chelegat with you.
---
Water is a resource that no living thing can do without. Clean and safe water for consumption is mandatory for all of life.
The lives of the people in this community have improved significantly and this is certainly a result of protecting Zikhungu Spring.
"Protecting the spring has helped individuals access clean and safe water for consumption, thus the earlier reported water and sanitation diseases are the past," said Abigael Kasiti to us during a recent visit to the spring.
The training undertaken on water and sanitation has also helped in boosting the health status of the beneficiaries and helped in reducing the poverty levels among the members.
"The project has brought about unity and peace among community members and this has positively translated to better developments in the community," Ms. Kasiti added.
This group is currently accessing clean water and though they are economically challenged, they are doing their best to improve their environment. Still, this project has gone a long way in improving their livelihoods.
Protection of the spring is only one step along the journey toward sustainable access to clean water. The Water Project is committed to consistent monitoring of each water source. Our monitoring and evaluation program, made possible by donors like you, allows us to maintain our relationships with communities by visiting up to 4 times each year to ensure that the water points are safe and reliable.
This is just one of the many ways that we monitor projects and communicate with you. Additionally, you can always check the functionality status and our project map to see how all of our water points are performing, based on our consistent monitoring data.
One project is just a drop in the bucket towards ending the global water crisis, but the ripple effects of this project are truly astounding. This project in Mungulu is changing many lives.
"Accessing clean and safe water for consumption has greatly improved my health status," 13-year-old student Pamela Atieno said.
"Initially, I would complain of stomachaches and diarrhea after consuming water from the unprotected spring. Currently, I am no longer sick and do not miss school!"
This is only possible because of the web of support and trust built between The Water Project, our local teams, the community, and you. We are excited to stay in touch with this community and support their journey with safe water.
Read more about The Water Promise and how you can help.
See The Water Project in Abigael Kasiti's Community »