August, 2022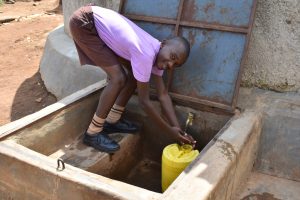 Life for students at Bahati ADC Primary School was exhausting last year. Every morning they brought water to school because their school's small rain tank would run dry. But not only were they exhausted, but they also were often ill because the water they collected was contaminated.
"Life was hard here in school because we used to drink contaminated water, and it affected me because I used to get sick," said 14-year-old student Felix L.
But thankfully, now that they have a large, dependable rain tank full of clean water, things are different.
"My life has changed totally because [I] am now a healthy pupil because [I] am accessing clean water in school," said Felix. "Having water in school has enabled me to have more time for myself and my fellow pupils because we are now able to read and do assignments together."
With this water source at school, Felix's future is looking brighter than ever.
"Having [a] water point in school has enabled me to do my assignments on time. My grades have improved too because I no longer miss lessons," concluded Felix.
See The Water Project in Felix's Community »