August, 2017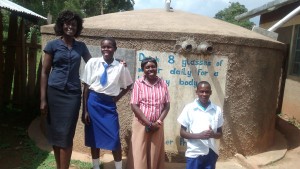 A year ago, generous donors helped build a rainwater catchment system, latrines, and hand washing stations for Nabwani Secondary School in Kenya. Because of these gifts and our monthly donors, partners are able to visit project sites throughout the year, strengthening relationships with communities and evaluating the actual water project. Because of these consistent visits, we learn vital lessons and we hear amazing stories – we're excited to share this one with you from field officer Jacqueline Shigali.
—
"It was evident Nabwani Secondary School compound is very tidy, classrooms were clean and even students themselves looked so neat. This is due to the availability of enough water within the school compound. Cases of diarrheal disease have reduced, thanks to the WASH training where participants were taught good hygiene practices. This means a lot of time and money that could be used for treatment and fetching water from the spring have been saved and is being used profitably. This explains why there was improved performance in the national examination as well," says Jacqueline.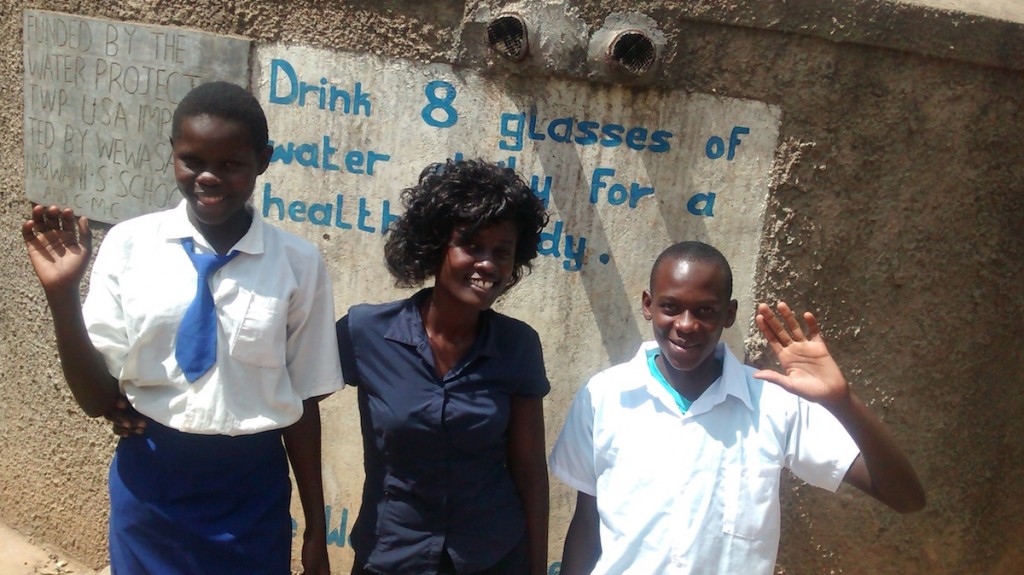 "The Nabwani community as a whole is so grateful for a great transformation since construction of a 30,000-liter water tank and 6 doors of VIP latrines," says deputy Principal Lorna Mwenesi. "The tank has helped the school in terms of storage unlike the former days when water could be fetched by students in 20-liter jerry cans which also acted as storage facilities. Since construction of this tank, our children have never gone to the spring to fetch water – the tank did not dry even during the dry spell," said the deputy Principal. "Time used to be wasted as students walked down the spring to get water where they would queue with community members. No wonder the school's mean score in the national examination improved, allowing our institution to have their first candidate ever to join a university on merit! People are no longer hired to fetch water for cooking and children do not carry water from home to school, which has really boosted self-esteem for many," she says smiling.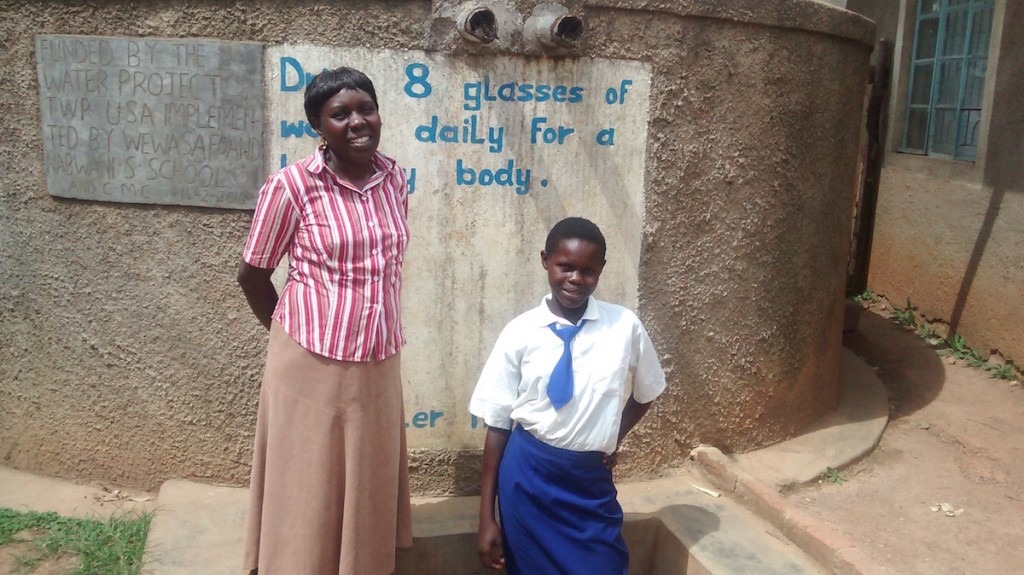 Meals are prepared on time since the water tank was constructed just near the kitchen where the cooks just draw and use it instead of waiting for school children or casual laborers to bring from far. Utensils are now washed and rinsed properly which has lessened outbreaks of diseases. Food is also cleaned the right way as opposed to the former days when dirt was seen in food as there was little water for washing before cooking.
"Sometimes the food never used to be washed at all because of inadequate water. But now our food is so clean as it is washed in plenty of water," continued the deputy. "There has been an outcry of cholera in the neighboring schools but Nabwani did not even have one case of the disease. This is because of the available water for washing hands and the WASH training carried out last year."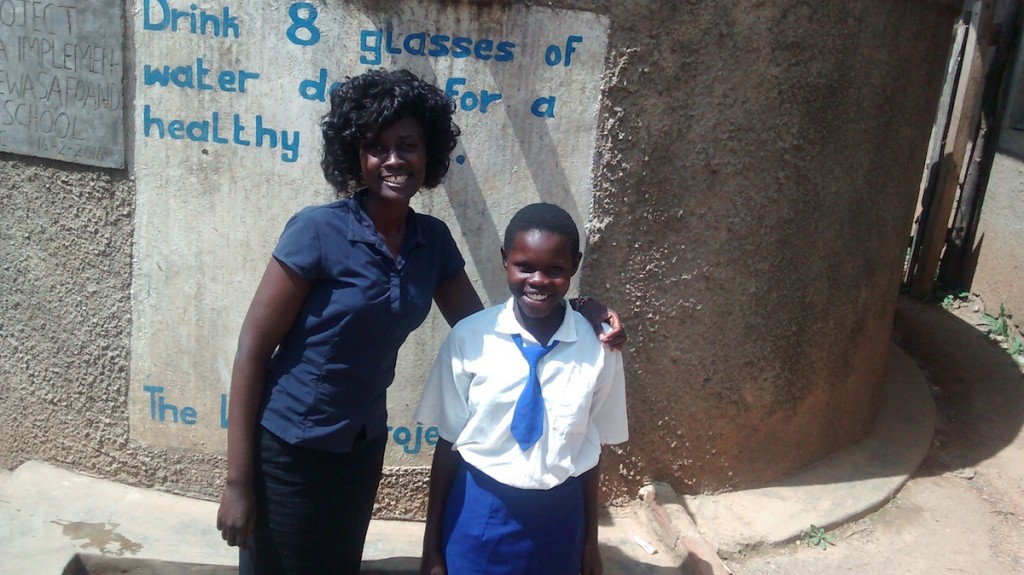 Construction of 6 doors of VIP latrines was also a great blessing for the school. The primary school children used to share latrines with Secondary school students since the secondary did not have their own facilities. Crowding and disagreements on who to wash the latrines had started bringing chaos between the two institutions and it had reached a level where the primary children had begun insulting secondary school children. But now the relationship between the two institutions has been cemented.
Jacqueline also spoke with 15-year-old Brendah Kasudi, a student at Nabwani Secondary School, who shared, "students have enough time to sit in class and read because we don't have to fetch water. A considerable amount of time has also been saved as the long queues that used to be at the latrines have been reduced by construction of six new doors. The new facilities have also brought confidence and boosted self-esteem among the students."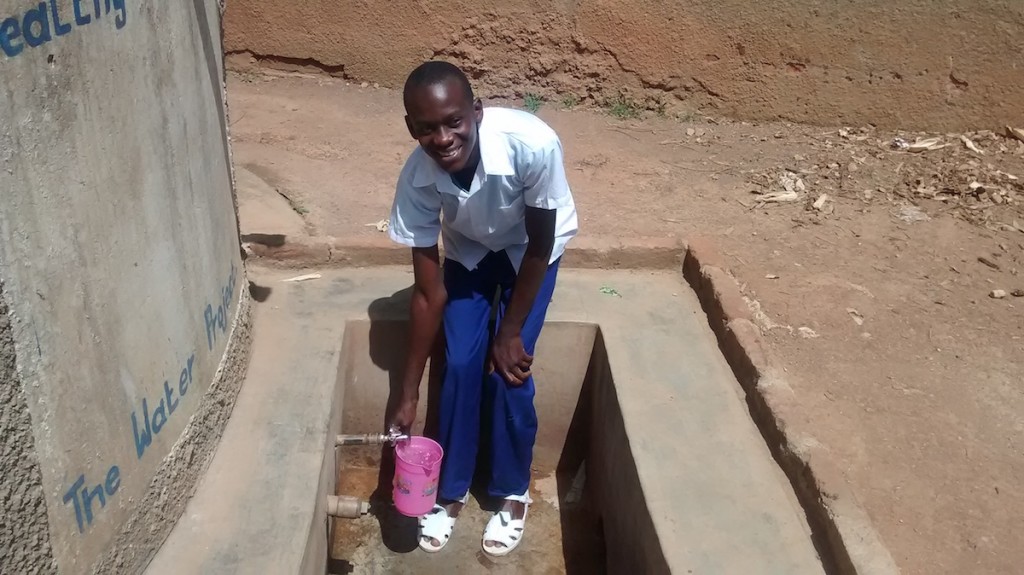 News that Jacqueline was visiting the school spread and Renine Obaga, a form two member of the CTC (child-to child) club, asked to be interviewed as well. Renine explained how much relief he felt after construction work ended. "What you did in our school is immeasurable! I no longer carry water from home or the spring, neither do I run to the primary school to use their latrines" he stated. "Don't just think it is the tank, latrines and hand washing stations; a lot of positive change is taking place in this school because of the project you gave us," he continued. "The WASH cabinet has become so active and I believe it is nurturing future leaders because to be honest, I used to be so shy until the time I became a CTC club member where everyone is given a platform to speak and bring out new ideas. We also get a better understanding of health when we teach others and this has made me a better person," he added.
"This water project is the beginning of a transformation in Nabwani Secondary School," Jacqueline confirms. "A lot of positive changes are seen in the school. We will continue to visit this school and share more stories."
—
The Water Project and our partners are committed to consistent monitoring of each water source. Our monitoring and evaluation program, made possible by monthly donors, allows us to visit communities up to 4 times a year. Read more about our program and how you can help.
See The Water Project in Renine Obaga's Community »