May, 2022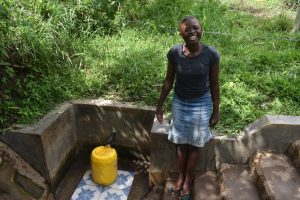 Before Shianda Community's spring was protected, its people had to wait for the sediment stirred up from the bottom of the spring to clear each time they filled their jerrycans to avoid drinking dirty water.
"Accessing water was really a big problem," said Sheila M., 14. "[I] spent so much time collecting water, which was not really easy, as I wait[ed] [for] water to [settle] before fetching. This contributed to [a] long time queuing and also contamination of [the] water."
But now that the spring has been protected, there are no more long lines of people waiting to fetch water. Instead, people only have to place their containers beneath the discharge pipe to get water free of dirt and unseen contaminants.
"Personally, I really appreciate the water source," Sheila said. "I no longer spend much time queuing to fetch water. This has really improved [my] studying schedule. Furthermore, I can celebrate because [my academic] performance has been improved. Apart from that, general hygiene has also changed, i.e. I can wash clothes, bathe on a daily basis. This has also helped me to live a healthy life with minimal cases of diseases, no absenteeism to school, and my parents are also doing great in development compared to the past."
Sheila has used the availability of water to spread the message of good hygiene within her community.
"I can testify that, through this water point, [I] am [a] good ambassador to other children on matters concerning hygiene and sanitation," Sheila concluded.
See The Water Project in Sheila's Community »