December, 2017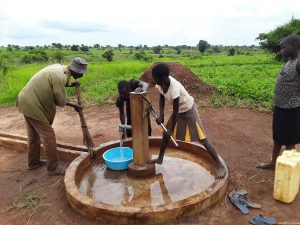 A year ago, generous donors helped install a well with Okweche Central Community in Uganda. Because of these gifts and contributions from our monthly donors, partners can visit project sites throughout the year, strengthening relationships with communities and evaluating the actual water project. These consistent visits allow us to learn vital lessons and hear amazing stories – we're excited to share this one from our partners, Peter Osire and Geoffrey Kusemererwa with you.
---
Okweche Central is now Open Defecation Free (ODF) with 100% latrine coverage. We walked beside this community as they conducted their own appraisal and analysis of open defecation and took action. Natural leaders were born as they took the gauntlet in encouraging their neighbors to build latrines.
This community used to travel long distances in search of water. The nearest water point was about two kilometers away, and they would spend about 1-2 hours to get there, fetch water, and return. As women spent too much time out finding water, their husbands would get upset. As children were out, they encountered dangerous strangers who would do them harm. So, bringing a clean water point closer to this community has blessed them in countless ways. They now get great value out of their time, using it to do other productive activities like running small businesses and agriculture.
We met with Peter Oryem at the well to talk about what he and his community have been experiencing over the past year. He said, "Community members are appreciative for the improved sanitation brought to our community. The old open source was abandoned long ago and it is now the cows who use it." But he also used this opportunity to share some of the challenges he's experienced as the chairman of the water and sanitation committee for Okweche. According to Mr. Oryem, "Some members have resigned their positions, community members are uncooperative in as far as managing the water point is concerned, and they don't want to contribute water user fees… There are over 50 households that use this water point but about 19 households are the only ones who pay water user fees. We currently only have a few shillings saved."
When Officer Osire heard this, he discussed an action plan with Mr. Oryem. He's decided there should be a fee of 2,000 shillings if someone shows up to fetch water with a dirty jerrycan. Furthermore, that 15,000 shillings should be used to construct a fence around the well (Did you know that well pads are sometimes trampled by elephants in Uganda?).
When Officer Osire followed up at Okweche, he found a new fence! He also plans to support Mr. Oryem in arranging for new water and sanitation committee elections to be held.
9-year-old Apio Felister came to the well while we were there. She told us, "These days we drink clean water with no germs, unlike before when we used to drink water from an open water source which was contaminated because we used to share it with animals. It was also smelly and had a bad taste. This water would lead to skin diseases and other diseases. So with the introduction of this water point, the effects of these diseases are not evident in our community anymore."
---
Field Officer Osire is committed to Okweche Central, and plans to work with them until they have a strong water and sanitation committee that will care for and effectively manage this well.
The Water Project and our partners are committed to consistent monitoring of each water source. Our monitoring and evaluation program, made possible by monthly donors, allows us to visit communities up to 4 times a year. Read more about our program and how you can help.
See The Water Project in Apio Felister's Community »