September, 2018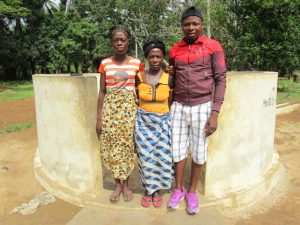 A year ago, generous donors helped restore water to a well in Ponka Community, Sierra Leone. The contributions of incredible monthly donors and others giving directly to The Water Promise allow teams to visit project sites throughout the year, strengthening relationships with communities and evaluating the water project over time. These consistent visits allow us to learn vital lessons and hear amazing stories – we're excited to share this one from Madieu Turay with you.
---
Life in this community has changed when compared to past years. People are truly practicing hygiene in this community! They take good care of the water point, and after several interviews with different community members, we found people in this community don't normally fall sick. And why? They answered that community members are following the hygiene and sanitation teachings taught about keeping self, household, and environment clean.
We talked to the pump caretaker, Mrs. Mah Kargbo, and student Kadiatu Sesay about other changes they've witnessed since water was restored last year.
"This organization has made some diseases that were affecting us over the past years run away from us; diseases like cholera, diarrhea, typhoid, and malaria," shared Mrs. Kargbo.
This is thanks to the presence of clean water in Ponka, as well as people's willingness to practice good hygiene and sanitation to prevent the spread of germs.
Mrs. Kargbo continued, "Every household now has dish racks, tippy taps, kitchens, bath shelters, and latrines."
"Now that we have a water supply in this community, we get to process our palm oil in the village instead of going to the swamp."
Kadiatu Sesay says she feels much safer now that she doesn't have to walk on the overgrown pathway to the swamp.
"This project has reduced the risk of snake bites," Kadiatu said.
"This project has made me stop being late for school and has created enough time saved for studies."
This is really one of the cleanest communities we have ever visited, and they have put into practice everything the hygiene team taught them.
Installation of the well is only one step along the journey toward sustainable access to clean water. The Water Project is committed to consistent monitoring of each water source. Our monitoring and evaluation program, made possible by donors like you, allows us to maintain our relationships with communities by visiting up to 4 times each year to ensure that the water points are safe and reliable.
This is just one of the many ways that we monitor projects and communicate with you. Additionally, you can always check the functionality status and our project map to see how all of our water points are performing, based on our consistent monitoring data.
One project is just a drop in the bucket towards ending the global water crisis, but the ripple effects of this project are truly astounding. This functional well in Ponka Community is changing many lives.
This is not possible without the web of support and trust built between The Water Project, our local teams, the community, and you. We are excited to stay in touch with this community and support their journey with safe water.
Read more about The Water Promise and how you can help.
See The Water Project in Kadiatu Sesay's Community »