December, 2017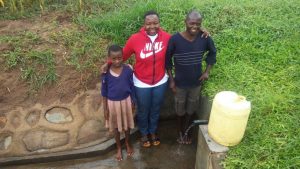 A year ago, generous donors helped protect Robert Chemase Spring for Eshikuyu Community in Western Kenya. Because of these gifts and the contributions of our monthly donors, partners are able to visit project sites throughout the year, strengthening relationships with communities and evaluating the actual water project. These consistent visits allow us to learn vital lessons and hear amazing stories – we're excited to share this one from our partner, Betty Majani, with you.
---
Betty arranged to meet community members at Robert Chemase Spring to talk about their first year with clean water. On her way there, she passed through the village to check the cleanliness of homesteads. It's normal to see a drastic change right after hygiene and sanitation training, with new sanitation facilities popping up everywhere. But it's important to continue checking in with the community to see that these facilities are maintained and still being used as time goes on.
Betty was excited to see that household after household had dish racks, clotheslines, and compost pits that were all being used. The owners of these facilities told Betty that they maintain them sheerly because they've seen a huge jump in health; whether it be the clean water or good hygiene and sanitation, community members cherish both because of the life improvements they've experienced.
Robert Chemase met Betty at the spring and told her, "Since the protection of the Chemase Spring, people living in this community are not the same. Their compounds are very clean, and they wash their hands after visiting latrines. This has tremendously reduced waterborne diseases."
9-year-old Valary Mwanje attends nearby Eshimoni Primary School. "Since the spring was protected, I have had enough time to do my school work and my performance has improved. I no longer waste time fetching water from the spring," she said. All she has to do is set her jerrycan down and let it fill with clean water from the discharge pipe.
Both Mr. Chemase and Valary mentioned that since the spring is located at the bottom of a hill, lots of dirt washes down into the spring area. Betty suggested that the hill be terraced to prevent this kind of erosion.
---
The WEWASAFO team will continue to walk alongside this community through consistent monitoring visits. We are excited to stay in touch with this community and to report back more positive stories. These visits will also give Betty an opportunity to follow up on any terracing efforts.
The Water Project and our partners are committed to consistent monitoring of each water source. Our monitoring and evaluation program, made possible by monthly donors, allows us to visit communities up to 4 times a year. Read more about our program and how you can help.
See The Water Project in Valary Mwanje's Community »