August, 2022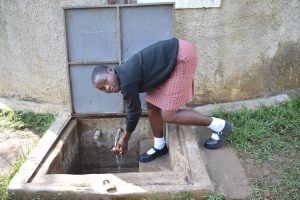 "Getting water then was very difficult since we could crowd at the water point that was not reliable," said Sharon, an 18-year-old student at Epanja Secondary School, when describing life for students last year related to the water situation.
But we installed a large rain tank at her school, and now things are different for Sharon and her fellow students. Fetching water doesn't take much time at all, so students don't encounter lines of others waiting for water like they used to.
"It [is] now easy to get water since we do not crowd at the water point as we used to. I am now able to save time during lunchtime and even in the morning," shared Sharon when discussing how life has changed.
"I have been able to dedicate enough time to my class work and assignments. I am saving time I used to waste," concluded Sharon.
See The Water Project in Sharon's Community »