May, 2022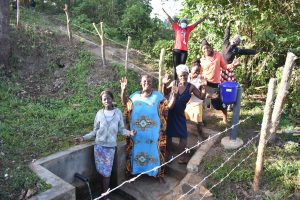 Before Matiang'i Spring was protected last year, the people of Mwitwa spent a lot of time every day sourcing clean water for drinking, cooking, cleaning, and irrigation.
"We had tough times searching for clean water because this [spring] was not safe for drinking," said 10-year-old Maxwel. "We could waste a lot of time on the roads, making it difficult for me to finish my homework."
But now, they don't have to search for water all around their community – it's right in their own backyard.
"Getting water from this water point is now easier because I don't experience difficulties reaching the drawing point," Maxwel said. "It has also helped me manage my time well by finishing schoolwork without any delay."
It's fantastic that Maxwel is able to complete all his schoolwork. In the past, Maxwel's academic future was uncertain because his parents couldn't afford to pay school fees. But with the money his parents have made farming, he and his siblings can all attend school without worry.
"My life in school has been so disheartening for lack of fees. Together with my siblings, the journey has never been easy for us until the water point was protected. We can now afford a smile because our parents can easily pay our school fees from the amount [of money] they get from the products gotten through irrigation using the water point [for farming."
See The Water Project in Maxwel's Community »