October, 2018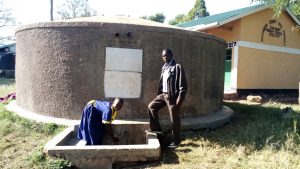 A year ago, your generous donation enabled us to construct a rainwater catchment tank for Shiyunzu Primary School in Kenya. The contributions of incredible monthly donors and others giving directly to The Water Promise allow our local teams to visit project sites throughout the year, strengthening relationships with communities and evaluating the water project over time. These consistent visits allow us to learn vital lessons and hear amazing stories – and we're excited to share this one from local team member Jemmimah Khasoha with you.
---
Shiyunzu Primary School has transformed for the better in the year since the construction of a rainwater catchment tank, new latrines and handwashing stations. Most notably, students are performing better in school thanks to the provision of clean water.
"I use my time well since we no longer waste time going to fetch water at the spring," 13-year-old Emma Ayesa told us. "We usually spent an hour each day fetching water. I am grateful for your kindness that you rescued us and we no longer need to waste that time."
That time saved for students like Emma is now spent studying. And the students are also healthier now that they drink from a safe source of water.
"Before the installation of the facilities, I used to register more than 50 pupils absent from school because of stomachaches. This was due to dirty water from the springs, but am glad and very appreciative to say that the number of absenteeism has reduced to 15," Headteacher John Angaya reported.
During the dry season, the tank has so much water stored that it is also used to irrigate the school farm. Mr. Angaya proudly said the past year he harvested vegetables and this helped him attract teachers to the school by providing them with lunch. In doing so, the teachers have displayed a renewed commitment to supporting the students' studying periods, thus improving their academics.
Construction of the tank is only one step along the journey toward sustainable access to clean water. The Water Project is committed to consistent monitoring of each water source. Our monitoring and evaluation program, made possible by donors like you, allows us to maintain our relationships with communities by visiting up to 4 times each year to ensure that the water points are safe and reliable.
This is just one of the many ways that we monitor projects and communicate with you. Additionally, you can always check the functionality status and our project map to see how all of our water points are performing, based on our consistent monitoring data.
One project is just a drop in the bucket towards ending the global water crisis, but the ripple effects of this project are truly astounding. This tank in Shiyunzu Primary School is changing many lives.
The school's sanitation and hygiene have greatly improved and this is seen just as you enter the school compound. The classes and the latrines are very clean. Emma said she now wears white socks each day to school since she no longer has to worry about dust in the classrooms soiling her socks. And Mr. Angaya noted that fewer students are coughing during the day – a likely result of less dust inhaled each day.
The pupils are also happily washing their hands using the handwashing stations which were delivered to the school along with the new latrines. These improvements are due to the tank and new facilities which were implemented in the school last year.
This is only possible because of the web of support and trust built between The Water Project, our local teams, the community, and you. We are excited to stay in touch with this community and support their journey with safe water.
Read more about The Water Promise and how you can help.
See The Water Project in Emma Ayesa's Community »