August, 2022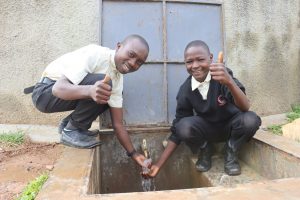 The students at Salvation Army Matioli Secondary School struggled to collect enough water to meet their daily needs last year.
"Water in the school wasn't enough, especially during drought season where we had to find water elsewhere to help us in other areas such as cleaning of classrooms," shared 15-year-old student Japheth S.
But now, students enjoy the benefits of having their own rain tank on campus, and things have improved.
"Having enough water in the school has helped us a lot, especially in carrying out our sanitation duties," said Japheth.
Since water is readily available to students, they have time for other things like studying, making their futures more promising.
"We have improved on our time management practices, especially on our manual time. We limit our time for cleaning since we have enough water. With this, we continue to strive to excellence," concluded Japheth.
See The Water Project in Japheth S.'s Community »