November, 2022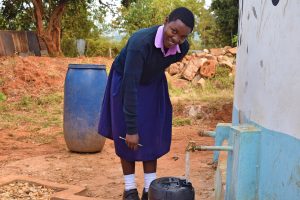 Last year, the students of Utuneni Secondary School could only access water two days a week. So the school administration often bought water from unreliable, expensive vendors. This left the school with high bills and still not enough water.
"Before the construction of this project, life was very hard," said 18-year-old Sarah N. "We didn't have enough water to wash our clothes and dormitories because there was water rationing in the school. We had to queue for [a] long [time at] the taps hoping to get a drop of water to quench [our] thirst. Many of the times, one would fail to drink water after taking their meals, not to talk of washing their dishes."
Sarah is an agricultural student, and without a steady supply of water, growing anything in the school's garden was incredibly difficult. But since we constructed a high-capacity rain tank at the school, things have changed for students and staff alike.
"Now it is easy and efficient to fetch water from the tank," Sarah said. "We have enough water for our projects in the school, such as [the] tree planting program and agriculture practical [exams]. [During] a time like now, the school used to have serious water problems, but thanks to [you], we have water in plenty. We are also very much assured of drinking water and also water for washing clothes and bathing. Life is now bearable in the school. We have managed to save on time consumed queuing for water and utilize it for studies."
This change has not only helped to secure Sarah's present happiness, but has also helped her in achieving her goals for her future.
"Back then, before the project was implemented, I was in form (grade) three, and I was yearning to get [a] water supply to water my vegetables during my form four year," Sarah explained. "The dream came to reality when this tank was put in place, just in the hour of need, I was able to grow vegetables for [my] examination, and here I am, very optimistic and hoping to get good grades."
See The Water Project in Sarah's Community »