September, 2018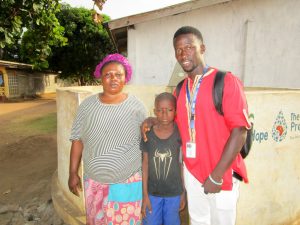 A year ago, generous donors helped restore water to a well at Victory Evangelical Church in Rotifunk Community, Sierra Leone. The contributions of incredible monthly donors and others giving directly to The Water Promise allow teams to visit project sites throughout the year, strengthening relationships with communities and evaluating the water project over time. These consistent visits allow us to learn vital lessons and hear amazing stories – we're excited to share this one from Omoh Emmanuel with you.
---
Things have changed since clean water was restored to this community. The presence of this precious commodity has allowed people to practice everything we taught during hygiene and sanitation training last year. People used to live with no regard to cleanliness, but now they are ashamed to leave their homes dirty in the morning.
Things happen on time now because it is not wasted fetching water. Children arrive at class on time, and families are able to get dinner on the table before dark.
Pump caretaker, Ramatu Kamara, witnessed all of these changes. Her only concern is that people should start digging drainage around their households to make sure water doesn't puddle. Pooled water attracts mosquitoes, and she wants to keep the risk of malaria low.
Since we heard this concern from Mrs. Kamara, we gathered some of the church and community leadership together to talk about the need for good drainage. We'll follow up with their progress during our next monitoring visit.
Restoration of the well is only one step along the journey toward sustainable access to clean water. The Water Project is committed to consistent monitoring of each water source. Our monitoring and evaluation program, made possible by donors like you, allows us to maintain our relationships with communities by visiting up to 4 times each year to ensure that the water points are safe and reliable.
We also met 9-year-old student Amara Conteh at the well to talk about the changes he has seen in his own life.
"Education has become a little bit easier for me. When the water well was not renovated like now, we use to fetch water under high risks from an open well with ropes to draw from it. We wasted more time to fetch water, and sometimes was too late for school. The school authorities don't care to know if it is because you are trying to fetch water that makes you late, they will just mark you late and that affected my results," Amara said as he reflected on the transformation.
"But now that your organization has upgraded this well, we can boast of going to school on time and to the sensitization you gave to our people we are the first priority in the community!"
People let Amara and other students get their water first because they are all aware of how important school is for their children.
This is just one of the many ways that we monitor projects and communicate with you. Additionally, you can always check the functionality status and our project map to see how all of our water points are performing, based on our consistent monitoring data.
One project is just a drop in the bucket towards ending the global water crisis, but the ripple effects of this project are truly astounding. This functional well in Rotifunk Community is changing many lives.
This is not possible without the web of support and trust built between The Water Project, our local teams, the community, and you. We are excited to stay in touch with this community and support their journey with safe water.
Read more about The Water Promise and how you can help.
See The Water Project in Amara Conteh's Community »