October, 2019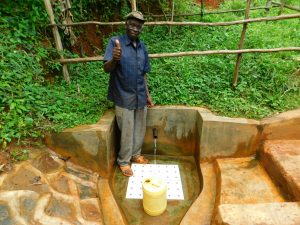 Field Officer Wilson Kipchoge recently visited John Omusembi Spring in Asimuli to check up on the spring and interview community members about the project's impact in its first year since completion. Wilson shared the following reflection from his visit:
"As you approach the homestead of these beneficiaries, you are welcomed by [a] clean environment comprised of flowers, trees, and well-swept houses. People in this area are very healthy and strong because they drink safe clean water from the spring that was constructed for them. The water looks clear and [is] very cold to taste making it a thirst quencher at all times for the beneficiaries."
"The training on community health helped a lot to awaken community members to take up hygiene more seriously as a way of reducing common local diseases like malaria and jiggers infestation."
"This group of people is very much thankful for the…protection of the spring and provision of sanitation platforms. The beneficiaries of slabs have embraced [them] and are enjoying using the facilities."
John Omusembi Akunwa is not only the landowner of the spring and a respected elder in his community, but he also serves as the chair of the water committee. Mr. Omusembi met up with Field Officer Wilson at the spring to discuss the changes that the project has brought his community and how they are using it.
"The biggest change that has occurred here is that we now drink clean and safe water from the water point which had been a nightmare to us, but now it is a reality because we can see it and also use it," he said.
"Previously, people could complain of stomachache attributed to drinking of the water from the unprotected spring. Today, I am a proud beneficiary to say we have no such cases anymore. Women come to the spring and fetch water and leave the site without spending a lot of the time."
12-year-old Joseck Onyino was also with Mr. Omusembi and Wilson and reflected on what the project has meant to him as a child and student in his community.
"Since the project was done in our village, I use very little time to fetch water from the spring unlike in the past where I could struggle with a jug on my hand and on the other side, a container to carry the water home," he said.
"I nowadays place my container near the pipe and allow water to flow in in seconds, then carry it home without using a lot of energy. Also, when I go to school I stay there and learn without being sick because I drink safe water from the spring."
See The Water Project in John Omusembi's Community »