October, 2019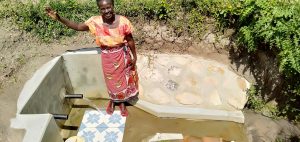 There have been significant achievements and changes as a result of Wambutsi Spring's protection and the other WaSH projects in Chebwayi B Community since their completion last year.
Progress was evident in the well-kept homesteads with dishracks and clotheslines seen as we walked down to the spring – 2 essential tools to help promote hygiene and sanitation that we coached this community on last year during their training. This is evidence that they have taken these topics to heart and mean to improve their situation.
"I am grateful to you…for protecting our spring," said the secretary of the water committee Mrs. Nipher Wambutsi.
"In the past, it used to be a big open hole that was risky for our children, especially during the rainy seasons. On the other hand, [the] water used to get contaminated. In this community cases of stomachaches in the families were rampant."
"After protection, this is minimal and as we shared with other women, [the] majority also testified of the same [results]. The spring is also now safe to send our children even during the rainy seasons. Thanks again and God bless you."
6-year-old Agnes Tom, a pupil at nearby St. Martins Academy who lives with her family in Chebwayi B, also reflected on how the spring protection has impacted her life over the last year.
"I used to fear to come to draw water from the spring when it was unprotected. It used to be a very big hole that [was] also slippery during the rainy season and one time my little brother fell in the hole. But since [you] protected the spring, they put for us nice steps to go down and I no longer fear to come to fetch water even when it's raining," said Agnes while smiling.
See The Water Project in Nipher Wambutsi's Community »