November, 2019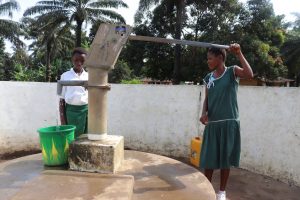 Things at DEC Mathem Primary School have improved significantly in the year since the well project was completed. The water user committee is working tirelessly to see that the well is functioning.
"My people and my fellow pupils no longer go to the stream to fetch water. We are very happy in school and the community," 14-year-old student Emma Koroma said.
"I don't fetch water anywhere other than this well for drinking, bathing, and laundering."
The students have changed their mindset about hygiene and sanitation as compared to before, reported our field officer after a recent visit. The lessons from the hygiene and sanitation training that they acquired are sustaining them and they are practicing everything that they learned a year ago. The community and the school environment are clean and their handwashing stations are up and running.
These changes occurred due to the training in conjunction with the water that is available from the well at any time.
"Our latrines are kept clean with water available, our handwashing stations are up and running which our students use to wash their hands after using the bathroom. We are not having any waterborne diseases because of this clean water and these improvements," said teacher Alhaji Kamara.
See The Water Project in Emma Koroma's Community »