September, 2019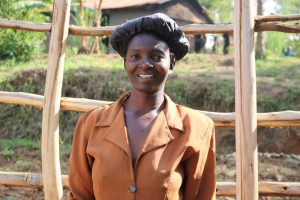 Since the rehabilitation of the well in Elukho last year, there has been great improvement in the lives of the community members. It is evident that the functioning water point has helped to unlock the potential of the people here.
To begin with, there is an improvement in the economic status of both women and the youths in this community. What has raised the economic status of both women and the youths in this community is that, since their water point was rehabilitated, they no longer spend too much time looking for water.
They now use this recovered time to engage in income-generating activities, and most of them have now started up small business enterprises where they earn some small money to cater for their family. The women, in particular, are embracing any opportunity that is coming their way as long as it will be of benefit to both them and the next generation.
It is also evident that the health status of people and especially of children in this community has changed for the better. Women and children used to get sick frequently due to drinking contaminated water. But now, they appear to be healthier and happier because now they have access to clean and safe water all the time.
The other area where there is an improvement is in the education sector of this community. Because of the functional water point, there is now increased school enrollment at the local primary school. As a result, the government has decided to expand the school's amenities and now they are constructing new classrooms. This construction project is good because young people in the area are now employed and working at that construction site.
It was amazing to see how active these young people were, and how optimistic they are to succeed in their endeavors.
"One of the biggest changes that has been happening since the rehabilitation of this water point last year is that we can now access clean and safe water without difficulties…Since this water project was completed, we have never experienced any challenges as far as access to water is concerned," said Christine Nyapola, a community member who serves as the caretaker of the well.
"We also save a lot of time, which we engage in other activities that we never used to do before that are beneficial to our lives. We are now healthier and cleaner because we have time to concentrate fully on our families. Our children, they are not only attending school fully but are focussing on school and their grades have improved. I have nothing to offer The Water Project other than sincere love and gratitude for transforming the lives of our community members in such a big manner."
One of those children Christine spoke of is Margaret Yvonne, a 10-year-old girl in Ekhulo. Margaret was eager to share her thoughts on the well too.
"Before I begin, I would like to say thank you to The Water Project for bringing us water and making our lives easier as children. Since the water project was completed in our community, there have been a number of changes experienced in my life as a kid," she said.
"First and foremost, I no longer get sick frequently because now I drink safe and clean water. But before the project, I used to get sick of typhoid frequently and spent a lot of time in hospital seeking treatment [which is] painful. The other change is that I get enough time to study since it does not take long to look for water anymore. [With this extra time] I have made more friends now in my neighborhood whom I play with after school."
See The Water Project in Christine Nyapola's Community »