July, 2019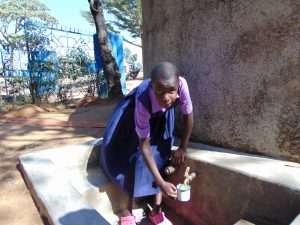 Upon one of our routine visits one year after their water and sanitation projects were installed, the pupils and staff at Ematetie Primary School looked healthy, clean, and happy. Originally the school had no access to safe and clean water. This resulted in pupils bringing water from their homes and carrying it to school.
Today, the entire school community is able to access clean and safe water. The pupils now have sufficient time for their academic work. In fact, the academic performance at the school has greatly improved; healthier students and staff means improved attendance and more time spent learning.
Senior Teacher Gerary Ndenda was pleased to report that "water is readily available" now, and that "the water is safe for consumption and other uses."
12-year-old Joy Mukamu also felt the impact of these projects over the last year.
"I am happy that we have clean and safe drinking water," said Joy.
"The water has really helped us [in] cleaning our classes, washing, and drinking. I thank [you] for coming to our assistance as a school."
As young Joy grows up and continues to go to school at Ematetie Primary. Just imagine what this personal impact might mean for her by the time she graduates. In addition to improved health, education, and opportunities, we hope it brings more of what she is named for: joy.
See The Water Project in Joy Mukamu's Community »