September, 2019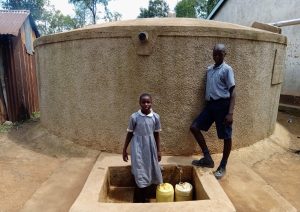 From a distance, the sight of the rain tank at Emmaloba Primary School is quite impressive, setting the school off from the surrounding landscape.
Since the inception of the WaSH projects in this school last year, pupils are no longer seen walking around with containers to fetch or deliver water as it was before. Orderliness has characterized the state of the school, and while walking around there is total silence and a sense of focus – a sign of assurance that there is no need to worry about anything. The 50,000-liter rain tank has to a great extent helped the school to have access to safe, clean drinking water within its compound.
Also, due to the provision of 6 VIP latrines, the school has been able to separate the location of the girls' and boys' latrines. Before this project was done, both the boys and the girls used to access sanitation facilities from one location, which was uncomfortable especially for the adolescent-aged age boys and girls.
Emmaloba Primary School remains thankful for their tank.
As for now, they are able to access safe water from the rain tank which was like a dream to them at first because they thought it was impossible to have such a project within their compound. The environment around the school looks green with trees and flowers making the area cool and shady, a pleasant improvement thanks to the increased access to water and pride in the school.
"Since the project was done last year, we as a school have witnessed great changes especially being blessed with a very reliable water source within the school area," said Health and Sanitation Teacher Mrs. Judith Andayi.
"We have every reason to boast a little bit for the facilities given to us by our donors who made every possible effort to ensure that we get these beautiful facilities. As a school, we have come a long way and such help from loving and selfless donors is [a] great gift to us. We now have water at our school, the latrines have reduced congestion, and handwashing facilities have contributed towards promoting [the] washing of hands by both teachers and pupils."
One of those pupils is 12-year-old student Mary Atieno, who was happy to share how these projects have impacted her experience as a learner at Emmaloba Primary School.
"Since the time that this project was done in our school, I do not need to carry water every day to school like how we used to before. Drinking safe water from the tank is now a sure thing to me and I do not fear to take as many cups of water as possible."
"Accessing latrines is also great to me because previously, I feared to go to the latrines that were near to the ones for the boys. The time I used to spend going to fetch water from outside the school is now used to study more and do my classwork, hoping always to excel in my academic performance."
See The Water Project in Mary Atieno's Community »