October, 2019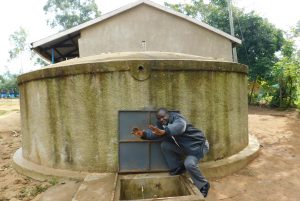 What has changed at Emukangu Primary School in Shibuli since the installation of their water projects last year? A lot, if you ask teacher Mr. Eugine Imbenzi as our field officers did on a recent visit to the school.
"We are happy because there has been [a] sufficient supply of water in school. A lot of time is saved since learners were wasting time looking for water from the neighborhood. They have improved in performance, disease prevalence has also gone down. The pupils get clean and safe water for drinking and do not have to go longer distances looking for water and making long ques with the local community members. They also [are] not in fear of being attacked by animals on their way back."
"Pupils at our school have greatly benefited from the availability of plenty of clean and safe water from the tank which they use for washing, cleaning the classes, and cooking."
"The project is good and useful to us, it has improved the overall hygiene of the pupils. There is a lot of water – enough for the pupils [at] school and the community. We pray to God to bless you and protect you always so as to continue supporting the marginalized members of the community and schools that have no capacity to do such projects." 
17-year-old Virginia Nandi is a student at Emukangu Primary School in Shibuli, and also offered her thoughts on how the rain tank, VIP latrines, and handwashing stations have impacted her experience as a learner over the last year.
"It has helped us reduce water-related illnesses hence improving our health. We also have access to clean, safe, and adequate water for drinking, cleaning utensils, classes, latrines, and cooking."
See The Water Project in Eugine Imbenzi's Community »