July, 2019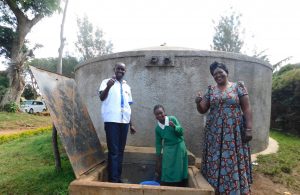 A recent visit to Erusui Girls Primary School a little over a year after their water and sanitation projects were first installed revealed a changed school.
The school community here is now able to carry out their normal duties without needing to worry about water at their school. Pupils concentrate more in class and pay attention to every lesson given to them by the teachers, which has translated to better academic results. Upon entering the school compound, we observed the handwashing stations at strategic positions to facilitate handwashing by the pupils. Previously reported cases of diseases are a thing of the past because the pupils are now consuming safe, clean water.
Head Teacher Patricia Nyongesa has witnessed the changes these projects have brought for her students, and she was happy to share her perspective with us.
When asked what the biggest changes were that Patricia has seen over the last year, she said "plenty of safe, clean water at the school which has promoted daily drinking of the water by the thirsty pupils, availability of more latrines which has helped reduce the time taken by the girls to use the facilities, [and] reduced cases of misbehavior from the pupils while going to the nearby water sources outside the school compound."
Additionally, Patricia noted that the performance of the school for all classes generally has improved as a result of the availability of the tank at this school.
12-year-old Mercy Griffith, the school's Sanitation Prefect, was eloquent and very mature in her interviews with us, breaking out her cheery smile every now and then as we listened to her.
"Fetching the water for use at the school is so easy and at a very close distance [now], unlike before when we used to travel for some distance to get the water," Mercy said.
"I [now] drink very safe water from the tank, eat clean food, [we] wash classrooms regularly, [and I] am always at school free from diseases due to handwashing with soap."
From Mercy to Patricia and the rest of the school's staff and pupils, we heard over and over again how very grateful this group was to you for enabling them to access safe, clean drinking water at their school and also supporting them with sanitation and hygiene facilities which have greatly helped to improve their health.
See The Water Project in 's Community »