September, 2019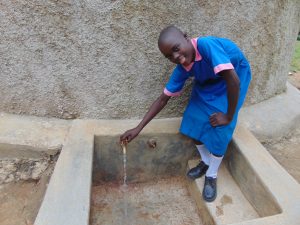 The pupils and staff at Eshiamboko Primary School can now access clean and safe water right inside their school compound, thanks to the rain tank that was installed there last year. They told us how they hardly get sick anymore, and this has improved their wellbeing and their performance in class too.
The student health club training was not in vain as the pupils wash their hands with soap after using the latrines and their hygienic standards have also improved. Both students and staff are very appreciative of the WaSH project that was implemented in the school. They clean their rain tank frequently and the area surrounding the tank is also clean.
"One of the major challenges that faced the school before was lack of water in the school compound," explained teacher Mr. Elphas Olocho.
"But, since the rainwater harvesting tank was constructed, this problem has been solved. We no longer interrupt classes to ask pupils to go and fetch water 2 kilometers away, which has helped in time management. The pupils are more healthy and they also have sufficient time to study."
One of those pupils is 14-year-old Eunice Ndeta, who was all smiles at the rain tank on the day of our visit.
"We used to carry water from home every morning and we could get tired even before we started our classes," she said.
"The installed tank has solved this problem since the water is available in the tank which is used for cleaning and is safe for drinking and cooking too."
See The Water Project in Eunice Ndeta's Community »