October, 2019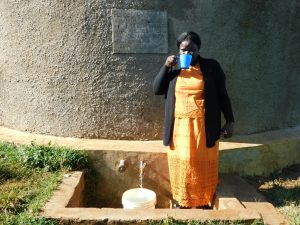 Field Officer Protus Ekesa recently visited Eshikufu Primary School to check up on their WaSH projects and interview students and staff about the projects' impact in their first year since completion. Protus shared the following observations from his visit:
"The school sanitation standard has improved. This is because of [the] availability of water in the school compound which has enabled them [to] clean their latrines…The sanitation has also improved because of the training that was done. This enabled the [student health] club [to] be active and insist on the sanitation and hygiene to the other pupils. The school has improved in time management because they need minimal time to get the water and settle down in class."
Head Teacher Mrs. Emily Osundwa hosted Protus' visit at the school and shared her thoughts on the impact the rain tank, latrines, and handwashing stations have had on her school.
"Pupils are able to settle down in class on time and dedicate much of their time [to their] studies," Mrs. Osundwa explained, highlighting the difference between their old practice of requiring students to leave campus and miss precious class time while they went in search of water.
"The pupils are able to drink the water without any fear since [it] is treated termly…The sanitation standard has improved and the pupils do go to the latrines without any fear since the latrines are always clean. The pupils are now able to wash their hands and enjoy the steps they were taught during the training. They also fill the handwashing containers every morning."
One such student is 16-year-old Vivian Osunya, who shared a different perspective as a young learner at the school.
"I am able to drink the water [because] I know its source, unlike in the past whereby we used to drink water brought from [unprotected sources at] home. During break time I go to the latrines without any fear because water is available and the latrines are kept clean."
(We are also working with Vivian's home community to see if we can help alleviate some of their water stress there too!)
See The Water Project in Emily Osundwa's Community »