October, 2019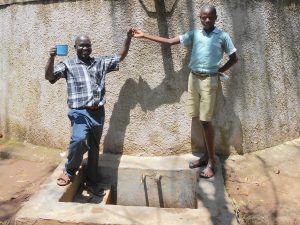 Pupils at Eshisenye Primary School were once forced to bring water from their homes to school because there was no reliable water source there. Some students could spend much time playing on the way to school and going to their home's streams fetching water.
Since the installation of their rain tank last year, the story at Eshisenye Primary School has changed for the better. The time and energy that was initially spent on the road in search of water has now been converted to academics which has greatly increased the contact hours between the teachers and the pupils. The VIP latrines and handwashing stations, coupled with water from the rain tank, have helped these pupils improve their hygiene when it is sometimes not possible to do so at home.
The issue of water at Eshisenye Primary School has been well addressed. The school environment is now clean, and all of their WaSH facilities are in good working condition.
"The school is now able to access clean and safe water," said Deputy Head Teacher Mr. Francis Chibole.
"Pupils no longer strain to get water to drink and even to clean. The most wasted hours have been compensated as most of the time the pupils are in class studying. The school performance has significantly improved and this is a plus for us."
One such pupil is 13-year-old Franklin Majimbo, who reflected on the changes he has experienced as a learner over the last year as a result of the WaSH projects.
"Nowadays we no longer carry water from home whenever we are going to school. We also do not spend so much time searching for water. We instead spend that time in our classes trying to improve our academics."
See The Water Project in Franklin Majimbo's Community »