July, 2019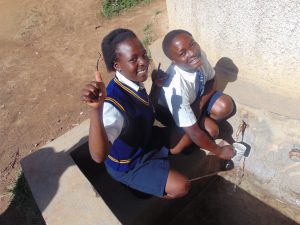 A year later, it's clear that the water and sanitation projects we helped implement at Eshisiru Secondary School were just part of an exciting and ongoing process of improvement for this school.
Upon entering the school grounds, the first thing that draws your eye is the clean compound. The environment is well maintained. Visiting the latrines, the state of sanitation is encouraging. The water from the tank has helped students and staff come a long way in cleaning their latrines.
As it turns out, our construction of the VIP latrines here prompted the school to replicate the project on their own, thus constructing three more doors of latrines for the girls just adjacent to the ones we had constructed. Through this complementary effort, the girls now have enough latrines. The concept of handwashing has also been fully embraced, and students can be seen washing their hands at their respective stations throughout the school compound.
Deputy Principal Abel Limozi has seen many positive impacts on student health and performance at Eshisiru since these projects were installed.
"Our students are able to clean their classrooms, latrines, and plates on time, unlike before when [they] would have to go all the way to the borehole to clean their plates and fetch water for classrooms and toilet cleaning," said Mr. Limozi.
He continued to share that the "availability of this tank has saved our students a lot of time, and this has been used in class thus improving their performance. [The] nearness of the tank to the kitchen has helped our cook a whole lot [too] since he used to fetch more than 40 twenty-liter jerrycans of water from the borehole for kitchen use every day. He now comfortably draws the water from the tank."
Ever-eloquent and studious, 17-year-old Jocelyn Nyaranga also shared her personal experience and observations of how these water and sanitation projects have impacted herself and the rest of her school.
"Our sanitation in the school has improved since we are able to wash our hands after visiting the toilet due to the availability of water and the handwashing containers," said Jocelyn.
"We are also able to wash our plates during lunch break in [a] short [time] without having to go to the borehole like we used to do before and waste a lot of time. We are able to clean our classrooms and latrines too in time. Previously we used to [get] congested at the borehole with pupils from the primary [school] and the villagers, and this could cause chaos but this has now stopped."
For Jocelyn and the rest of the pupils at Eshisiru Secondary School, their stories give life to the hope for continued improvements and increased opportunities for their school.
See The Water Project in Jocelyn Nyaranga's Community »