July, 2019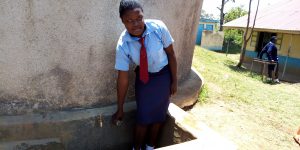 On our recent visit to Esibeye Secondary School, we saw how a lot of things have changed since we first installed their rain tank and sanitation projects a little over a year ago.
First, you notice how the school has now managed to control the movement of students outside the school building – at least until evening when they are allowed to go back to their parents of course! This has enabled the school to keep proper records and to monitor class attendance for all students. Before the WaSH projects, some students would disappear into the bush when sent to fetch water.
The students here also have rejuvenated morale to study because the shameful act of carrying water to school has been cut down due to the tank's capacity to store water.
For 19-year-old student Rumona Minicah, the WaSH projects have changed the very nature of her school days.
"There is reduced time wastage as sufficient water in school has made it easy to clean classrooms, latrines, offices, the laboratory, and library," Rumona said.
"Students now feel proud and confident because they do not carry water to school from home. Instead, they get drinking water from the tank and so they have become more punctual to attend lessons."
Deputy Principal Omulo Owich was happy to greet us and share what it has been like this past year living with the water and sanitation improvements at his school.
"The tank is the largest [water] storage container the school has. It serves [us] well, even during the dry spell of February and January as it never went dry. Students no longer carry drinking water from home and kitchen staff have enough water to prepare food and wash utensils," he said.
"Girls now take less time going to the latrines after the assemblies and during breaks. The latrines and water tank do help meeting the needs of large gatherings such as during sports or internal games, parents' meetings, and prayer days. Students do not carry water from home the way they used to do before and there are no longer quarrels with neighbors over water at the spring or fights among students."
"[Additionally], the school no longer buys water from vendors who used to bring dirty and contaminated water that used to cause stomachaches sometimes. Indecent cases that were experienced when students used to be sent to the spring have now ceased. Thus, indecent relationships in the bushes have also been addressed by [the] presence of [the] water tank in the school."
"Boys no longer engage in illicit activities like alcoholism and smoking, which some used to engage in by taking advantage of the time they could be sent to the spring for water."
See The Water Project in 's Community »