July, 2019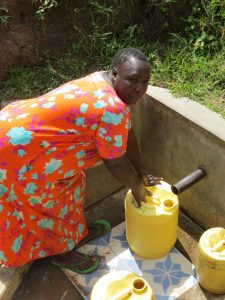 Life for Simeon Shimaka Spring users has transformed over the last year since the project's implementation.
These people no longer suffer from waterborne diseases, compared to before the spring protection. They are now enjoying good health and clean, safe drinking water. Water quality, water quantity, sanitation, and hygiene has also improved in the area since the spring was protected. Good hygiene habits such as washing hands often is being promoted among community members, by community members since our training on the topic a little over a year ago. The spring itself is in good condition with a steady discharge. It is kept clean and the surrounding environment is well taken care of.
Jacklyne Shimaka, a farmer in Futsi Fuvili, met us at the spring on a recent field visit to share with us how this project has impacted her own life and the life of her village.
"The community has improved in sanitation and hygiene. Since the provision of [sanitation platforms], the toilets are always clean and [are] enough for everyone. My children have not been sick [from] any waterborne diseases since we started drinking safe water, which was not the case before the protection. I am never worried about such sickness anymore," Jacklyne said.
Jacklyne also noted an interesting benefit to Simeon Shimaka Spring's good, steady yield.
"During the dry season, we meet new people from different communities who come to access this water. This creates networking and business transactions between the members, therefore improving people's livelihoods."
John Shimaka, Jacklyne's 8-year-old son, shared with us a simple yet powerful snapshot of how this project has impacted him personally.
"Before the spring protection, I was scared to go fetch water because I was afraid of falling into the water, but now I can fetch water anytime without adult supervision since it is safe and clean."
See The Water Project in Jacklyne Shimaka's Community »